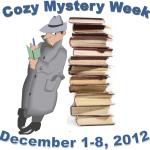 The first annual Cozy Mystery week has come to an end. I certainly enjoyed it; I hope you have to. I learned a lot this week, mainly that one week isn't enough to feature all the cozy mystery series I love. So, I do hope to make this an annual event at the very least. Certainly, Cozy Mystery Week isn't the only time I'll devote to reading cozy mysteries! I discovered so many new series this week that I cannot wait to dive into. Additionally, I have a few series I still want to feature, so stay tuned for more!
Before I share some of the series that are new to me, let's do a quick recap of the week:
Now, on to the series I discovered via other Cozy Mystery posts:
Juliet Blackwell's Haunted Home Renovation Series
Karen Olson's Tattoo Shop Mysteries
Robin Paige's Sir Charles Sheridan Series
Rosemary Harris' Dirty Business Mysteries
Victoria Laurie's Ghost Hunter Mysteries & Psychic Eye Mysteries
Nancy Atherton's Aunt Dimity Series
Jenn McKinlay's Library Lover Mysteries
These are just a small representation of all the series I've discovered this week! What about you? Any favorite cozy mysteries you'd like to share?
Also, don't forget to link up your cozy mystery post! It doesn't have to be from the last week. As long as it involves cozy mysteries, feel free to link it up!
Finally, thank you all for participating (putting up with) Cozy Mystery Week. This week has reminded me of how much I love reading cozy mysteries!