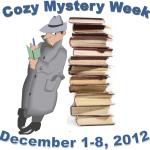 You may recognize the author of today's featured series, the Coffeehouse Mysteries, from a series I featured earlier this week. In addition to today's series, she writes the Haunted Bookshop series under her pen name, Alice Kimberly. It's really no surprise that I enjoy the Coffeehouse Mysteries as well for many of the things I love about her other work is duplicated in this series.
Also, admittedly, I have an obsession/addiction to coffee. As Coyle so eloquently puts it in the first book in this series, On What Grounds, when you find that perfect cup of coffee, you make yourself vulnerable, for once you no longer have access to that coffee, you're screwed. So true, so true.
Imagine that perfectly brewed cup of coffee…but in written form. Hard to imagine? Well, Coyle does an outstanding job of putting in written word the beauty and essence the glorious hot beverage that is coffee. Oh, and throw a bit of crime into the mix and you have a wonderfully addictive series.
The main character, Clare Cosi, left her job as manager the historic Village Blend coffeehouse in New York's Greenwich Village when her marriage ended. She escaped the memories of her marriage and fled to the New Jersey suburbs. Ten years later, however, her daughter Joy is off on her own and Clare's life has become quiet and, frankly, quite dull. When the eccentric, elderly owner of the coffeehouse calls her and offers her job to her once again, Clare can't resist. Little did she know what she was getting into. Deaths of employees, customers, and prominent socialites are just the tip of a mess that Clare finds herself immersed in. Running this coffeehouse is her passion and therefore she is willing to do whatever it takes to maintain the prestigious reputation the coffeehouse has upheld for so many years.
In addition to being a truly remarkable and addictive cozy mystery series, Coyle educates readers a great deal about coffee. She does this so expertly that readers don't even realize how much they are learning until they find themselves quoting names of particularly delicious (and expensive!) coffee varieties. She goes beyond the basics of coffee, yet it is so engrained within the storyline that it is unnoticeable on the surface.Additionally, Coyle excels at capturing the New York setting, both in descriptions of the physical landmarks as well as the culture of the surrounding residents.
The recipes…how I loved all the recipes! Coyle includes a few recipes in each volume as well as on her web site. Fans of coffee lovers and foodies alike will truly enjoy this series!
Out of all the cozy series I've read this is probably the longest series (twelve books in total) it is by far the most addictive one. When I started this series nine years ago, I happened to pick up a copy of the first book. Just the first book. It was pure torture that I had to wait a year for the release of the next book. Readers just discovering this series are in luck having the ability to have the entire series at hand. I warn you, however: don't just pick up the first book…grab the second as well. Like coffee, this series is so addictive you will want to have the next one on hand!
About the author:
Cleo Coyle is the pseudonym of Alice Alfonsi, who collaborates with her husband, Marc Cerasini, to write the Coffeehouse Mysteries and The Haunted Bookshop Mysteries, both of which are national bestselling series for Penguin's Berkley Prime Crime.