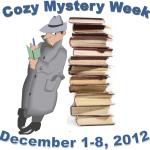 Cozy Mystery Week is finally here! My intent for hosting this blog event is two-fold: to spotlight my favorite cozy-mystery series as well as discover series I am not familiar with. Therefore, I thought it would be appropriate to start off this week of cozy-mystery celebration by featuring the series that brought me back to cozy mysteries: Julie Hyzy's White House Chef series.
Set in Washington D.C, the main character of this series is feisty, hard-headed, and independent White House chef, Olivia Paras. Olivia always seems to find herself in the middle of a murder or suspicious death and somehow conveniently finds a way to become involved in the investigation. Part of the reason I think I enjoy this series so much is the location: Washington, D.C., just a hop, skip and a jump away from me. I love reading about settings that are familiar to me. Another reason I truly embrace this series is Oliva herself; she's quite a spitfire! Finally, I have to mention the food! Each book in the series features an assortment of delicious recipes at the end. How can one not resist?
As proof of my love for this series, I've reviewed every single volume, devouring it (pun intended) as soon as I get my hands on a copy. They are as follows (in order of publication):
The six book in this series, Fonduing Fathers, is publishing later this month. Guess who is putting her life on hold once she has a copy in her hands?

Check back later this month for my review of Fonduing Fathers! More immediately, however, check back tomorrow as I feature yet another one of my favorite cozy mystery series!
Reviewed a cozy mystery lately? Want to join in on the fun of Cozy Mystery Week? Add a link to your start up post or cozy mystery review below! No blog, no worries! Tell us about your favorite cozy in the comments!