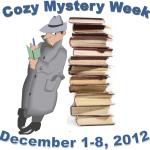 Set in Salem, Massachusetts (of course!) the Wishcraft Mysteries feature Darcy Merriweather, a young woman who has just discovered that she, too, holds the Wishcrafting power. Witches with this power have the ability to grant wishes, with restrictions of course. She's come to Enchanted Village, her aunt's magic-themed tourist town, to learn more about her powers. She joins her Aunt Ve in working for a personal concierge service, As You Wish. The company's motto: No job impossible.  In most cases, her job requires her to "magically" provide hard to find items, dress up as the tooth fairy, etc. That said, in many cases, Darcy finds herself tangled up in much more, including murder, the discovery of dead bodies, etc. Unable to grant her own wish to get to the bottom of these crimes, she instead becomes involved in the investigation.
Unbeknownst to the general public, Enchanted Village is comprised of a whole host of individuals with magical powers, including Curecrafters (healers) and Charmcrafters (potion creators). This unique cast of character adds quite a bit of flavor to this truly entertaining series. Fans of mysteries with a touch of the supernatural will truly enjoy this series!
Currently made up of just two books, there is ample time for readers new to the series to catch up before the release of the fourth book, The Good, the Bad, and the Witchy, in April:
To get a sample of the series, check out this excerpt of It Takes A Witch.
About the Author:
Heather Blake (known also as Heather Webber) is the author of three (almost four!) mystery series. In addition to the Wishcraft Mysteries, Heather also writes the Lucy Valentine and Nina Quinn mysteries, as well as a few romance and ebook titles.