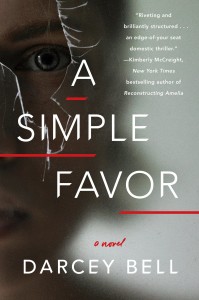 A Simple Favor by Darcey Bell
Published by HarperCollins on March 21, 2017
Genres: Fiction, Psychological, Suspense, Thrillers
Pages: 304
Format: eARC

Stephanie is a widowed mother of five-year-old Miles. A stay-at-home mommy blogger, she didn't have any close friends.  The other mothers in their suburban Connecticut home had no interest in befriending her. One rainy morning, however, fate brought her together with Emily, a PR executive who worked in Manhattan.  It was as if their friendship was meant to be; their boys were classmates and best friends.  The two quickly forged a friendship, so when Emily asks Stephanie to pick up her son, Nicky, after school, she readily agrees. This isn't the first time Emily's asked for a favor; her job often requires her to work long hours.

Except this time Emily doesn't come home. She doesn't respond to Stephanie's texts or calls.  Emily's coworkers don't seem at all concerned with her disappearance.  She reaches out to her blog readers for help. Desperate, she calls Emily's husband, traveling overseas, and shares her concerns. Finally, he reaches out to the police, who immediately launch an investigation.  Days later, their worst fears are realized. Emily's body is found in the lake near her parents' cabin.

Just when they think the nightmare of the unknown has ended, their lives are once again upended. Stephanie soon realizes that nothing is as simple as it seems...
I wanted to love this book; I did. I'm a huge fan of psychological suspense. The build up was pretty fantastic until about 3/4 of the way through…and it just got clumsy and messy.
What started out as a well-crafted mystery quickly became an attempt to combine too many story-arcs into one book.  I felt the main plot-line was enough to sustain the book on it's own.  Instead, spin-off story arcs about Stephanie's past through the momentum and pacing off and it was all downhill from there. An added "too similar to Gone Girl trope" completely forced me to lose interest.
Additionally, these multiple story arcs made the characters feel flat and under-developed. They didn't feel like genuine characters to me and honestly, the only characters I cared about where the children.  Had the author focused on one storyline and developed the characters instead of focusing on "easy"  and overly used tropes, I think this would have been a more enjoyable read.
Gone Girl was popular because it was unique and twisty and made readers feel ALL of the emotions. Replicating that doesn't make a good book for it's nearly impossible to replicate that genuinely. Rather, it's important for writers to find their own voices, their own stories, rather than mimicking.
Unfortunately, I find it difficult to recommend this title.