I may have mentioned this once or twice before, but I'm a bit of a bag whore. I can admit it. I love bags. I love bags as much (maybe more) than books because bags carry books. So, when I saw the Evernote Triangle Commuter Bag I knew I had to have it.   The $199 price tag was a bit of a shocker.  After reading other reviews, though, I decided it was worth a try.  And, thanks to my wonderful husband, I received one for Christmas.   Well, I received confirmation it had been purchased. The color I wanted (berry) was on backorder. After much, much waiting, I finally have it in my hands.
First, the specs from the Evernote website:
DIMENSIONS
Width: 15.7″ (40 cm)
Height: 10.25″ (26 cm)
Depth at widest point of base: 5.1″ (13.cm)
COMPUTER POUCH DIMENSIONS
Width: 14.5″ (36.8 cm)
Height: 10.1″ (25.6 cm)
Depth: .75″ (1.9 cm)
1. 15″ Macbook Air
2. Over-the-ear headphones (in black carrying case)
3. Ipad mini & zippered pouch
3. Power cords (Macbook, Ipad, USB charger)
4. Two external batteries
5. Book
Here's the interior of the bag before I packed it. Starting from back to front, first there is a sleeve for a laptop or tablet, followed by two small pockets. Finally, the largest compartment of the bag. You can see the dividers (connected by velcro) that are easy to adjust or remove as needed.   The flap also has two zippered pockets on the interior.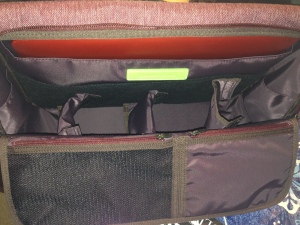 And now after I packed the bag: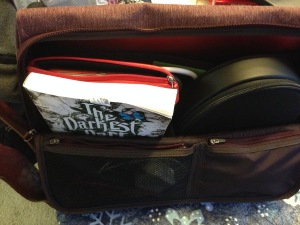 And the bag closed quite easily: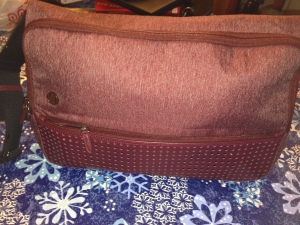 Despite holding all of these items, this bag is quite streamlined and compact. Not bulky at all, and definitely able to fit in the overhead bins or under the seat of the smallest of airplanes.  The fabric is quite durable and the overall look of the bag makes it appropriate for both a casual or a more formal business environment.  Best of all, the triangle design means it won't topple over, no matter how many items it holds inside.
All in all, I'd have to say the wait was well worth it. It didn't arrive in time for me to carry it on my first business trip of the year but I do hope to use it on my next trip  in a few weeks and give it a real world road test!
*Note: this is not a sponsored post. I did not receive compensation for my review of this product.*