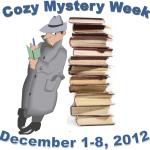 Set in San Francisco, the main character in the Bibliophile Mystery series is Brooklyn Wainwright. She has a very skilled trade, requiring a steady hand and a great deal of focus and concentration. She's a surgeon of sorts, except her patients aren't people, but books. Brooklyn is a smart and sassy book restorer.  One would think that book restoration would be a pretty laid back and relaxing occupation. Normally, perhaps, but in Brooklyn's case it is anything but dull.
Brooklyn becomes embroiled in cases ranging from supposedly cursed books to sordid secrets and murder. The books Brooklyn is tasked to restore range from Pride and Prejudice to Beauty and the Beast and the Kama Sutra; a book lovers dream.
Dare you ask why I love this series? Book restoration, stunning volumes of beautiful classics, murder…this series has it all. To top it all off, Brooklyn is an incredibly strong main character and, added to the incredibly unique plot lines, the Bibliophile Mystery series are hopelessly addictive.
I discovered this series right around the same time I started blogging. Reuniting with this series was like a walk down memory lane. While I didn't review them on my blog, I definitely do plan on doing so in the future, starting at the very beginning. With six books in the series this is quite an investment, one that is worth it in my mind!