Age Range: 8 – 12 years (3-7th grade)
Paperback: 208 pages
Publisher: GRAPHIX (August 26, 2014)
ISBN: 9780545540605
Source: Publisher
Raina wanted nothing more in the world than to have a little sister. When her wish is finally granted and her sister Amara is born, life isn't exactly what she thought it would be. Amara makes it pretty obvious that she prefers to spend time alone. Raina straps on her headphones, plugs in her Walkman, and disappears in her own world. As the years pass and a baby brother joins the family, Raina and Amara are no closer than before. Yet, when the family goes on a road trip from California to Colorado and things take quite a few unexpected turns, Raina and Amara decide to see past their differences and forge an allied front against the unexpected future before them.
As soon as I heard about this graphic novel I knew I had to read it. Having two sisters myself, I  wholeheartedly understand the the challenges Raina faced with the introduction of her younger siblings.  Telgemeier alternates between scenes of seriousness and laugh-out-loud humor to share her real-life relationship with her little sister. A sequel to her previous graphic novel Smile, Sisters continues Raina's autobiographical journey in graphic novel format.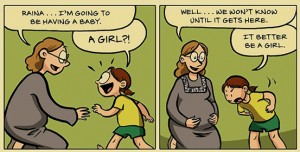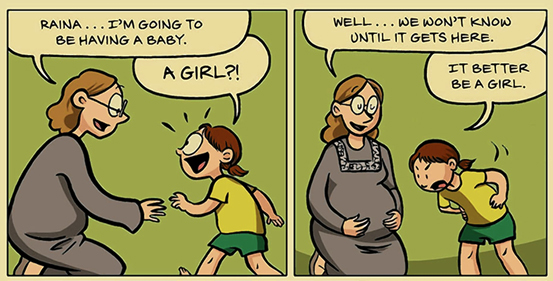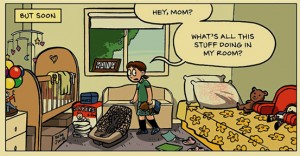 Although a bit lighter in tone than her other graphic novels, this heartwarming tale about family and sisterhood is sure to be a hit for fans of Telgemeier's work, new and old alike.   Telgemeier shares the struggle between siblings in a fun and comical manner, using tone and language appropriate to the intended age group.  While it's likely that readers will devour this in one sitting, Sisters is truly a book readers will pick up again and again.
After I read it this book, I encouraged my boys to do the same. While they are obviously brothers (and not sisters), it was my belief that the message would carry over. Here are their thoughts:
Justin (9): I liked it! Even though I'm a boy and have a brother and not a sister, I kind of knew what Raina and Amara were going through. Wait, am I Amara? I guess so, since I am the little brother. I mean, I understand wanting to do my own thing. I like to draw and do art projects and John likes to play video games and watch TV. I like my time to myself so I could kind of get both Amara and Raina's side of this story.  I think it's a fun book that all kids should read!
John (nearly 15): So I'm not the only one with an annoying sibling? Kidding! This was a fun and fast read. It kind of made me remember what I felt like when Justin was born. I had my parents to myself for six years before he came along! Thankfully we never had to share a room because that just wouldn't work at all. I like that it was fun but had a message, too. Basically, you'll always have fights with your siblings, but when life gets hard they are the one person you can turn to to hold you up. I think it's cool how she's reliving her childhood through graphic novels. I loved Smile and I really liked this one too.
There you have it! Three perspectives that, for once, agree on something: We highly recommend Sisters!