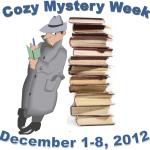 After her husband commits suicide, young widow Penelope Thornton-McClure returns to her hometown of Quindicott, Rhode Island with her son. There, she finds her aunt Sadie in financial trouble, about to lose the family's old bookshop. Refusing to allow the bookshop to close, Penelope uses the insurance money from her husband's death to renovate the bookshop. Unfortunately, the construction awakens the spirit of a private investigator, Jack
Shepard, gunned down on the premises half a century ago. Jack isn't exactly thrilled with his situation yet can't help but want to watch over Penelope and her family.  He has his hands full, for Pen & the bookstore seem to be a magnet for mysterious deaths.
One of my favorite things about this series is the chemistry Pen and Jack have with one another. She's a strong woman forced in the role of single-mother, struggling to help keep her family's bookshop alive. He's a suave P.I. with an outdated outlook on life. Their connection is an interesting one; Pen is capable of experiencing Jack's past cases through her dreams. This "skill" is an important one, especially when his past cases help her solve more current ones.
The setting is another thing I love about this series. Hello, mystery bookstore? My idea of a dream, right? The bookstore's name? Buy The Book! Genius I tell you!
While there are several books in this series and I highly recommend you starting from the beginning, it is possible to pick up this series at any point. Looking for a fantastic cozy mystery series with a touch of the supernatural? The Haunted Bookshop Mysteries are for you!