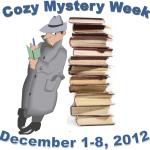 The fall/winter months are times of year best spent curled up with a blanket and a nice book. Even better, a cozy mystery! Cozies are certainly one of my favorite types of books that, unfortunately, I don't have the opportunity to read as much a I'd like. So, what better reason to read about them than a week-long celebration of cozy mysteries?
During the first week of December, before the holiday hustle and bustle takes over my life, I will feature my favorite cozy mystery series. Each day I will focus on a favorite series of mine.  A fan of cozies yourself? Join me! Link up below or indicate your interest in the comments below. Also, I'll create a link-up the beginning of cozy mystery week,  so feel free to link up any cozy mystery posts you've written. The best part? They can be from any time period, not only Cozy Mystery week.
So, get your comfortable reading spot, a nice warm blanket, a cozy mystery or two, and join me for Cozy Mystery Week!