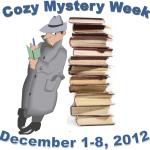 How can one not love a cozy mystery series set in a warm, tropical setting like Key West, Florida? I discovered this series last winter, reading it as from my cold, gray Northern Virginia home. The descriptions of the lively, colorful, warm setting was just what I needed. Quoting my review of the first book in the series, An Appetite for Murder:
An Appetite for Murder is the first book in Burdette's Key West food critic mystery series and it is a true delight! Not only does she cause your mouth to water with all the talk of food, but she really captures the essence of Key West as well; the culture, the people, the food, comes to life on the pages.  The setting is absolutely perfect, particularly for those of us up North suffering from frigid temperatures this time of year!
The second book in this series, Death in Four Courses just released in September and is just as amazing as the first book. The main character, Haley Snow, is attending a conference for food writers when she finds the body of an esteemed food critic, Jonah Barrows. Barrows is about to release a "tell-all" book and it appears as though someone doesn't want that to happen. Lucy, attending the conference in the hopes of getting the opportunity to interview Barrows for an article, instead becomes immersed in the investigation.
This series is a true delight, one that foodies will devour (pun intended). Burdette describes the food in such detail that you swear you can taste it. If readers are truly interested in tasting the food described, Burdette so graciously provides recipes for many of the food items mentioned.
Since this series is made up of only two books at this time, I do encourage readers to start from the first book. You learn a large bit of history about the characters, information that continues to come into play in the second book. Bottom line: this series, like any good dish, is meant to be devoured.
About the author:
Lucy's alter-ego, clinical psychologist Roberta Isleib, has published eight mysteries including the Golf Lover's Mystery series and the Advice Column Mystery series for Berkley Prime Crime. Her books and stories have been short-listed for Agatha, Anthony, and Macavity awards. She's a member of Mystery Writers of America, Romance Writers of America, and Sisters in Crime, and a past-president of Sisters in Crime.