I received this book for free from the publisher (egalley) in exchange for an honest review. This does not affect my opinion of the book or the content of my review.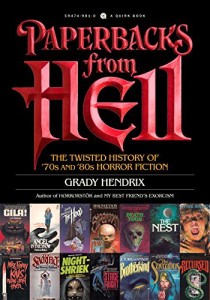 Paperbacks from Hell by Grady Hendrix
Also by this author: My Best Friend's Exorcism
Published by Quirk Books on September 19, 2017
Genres: Horror
Pages: 256
Format: eARC
Source: the publisher (egalley)

Horror fiction boomed in the 1970s and 1980s, a clear response to the terror and anxiety that existed in society at that time.  From shocking and descriptive covers to terrifying plots, this boom brought horror fiction (and film) to the forefront of society.

In this title, Hendrix spotlights the many titles that graced the shelves of bookstores around the country during this boom.  For many horror fans (this one included), reading this title is a blast to a past, reuniting with titles that forever shaped our passion in the horror genre.
My first taste of horror was, no surprise, IT by Stephen King.  I spent summers with my grandparents, spending the day at the library where my grandmother worked. I always picked the biggest and thickest books to read.  I remember the day, age 12, when I first pulled that Stephen King tome from the shelf.  It was the chilling cover with the storm drain, so vague yet so haunting.  That afternoon launched my passion for horror fiction.
Following, I devoured every bit of horror I could get my hands on. Smack-dab in the middle of the horror boom, it was easy for me to become immersed into all things chilling and terrifying. I subscribed to all the horror book of the month clubs (oh, how I miss Leisure Books).
So, when I learned Hendrix was publishing this title, I knew I had to read it.  Flipping through the egalley for me was like going through an old photo album or yearbook.  I was taken back to those titles I read so many years ago, and also introduced me to several I wasn't familiar with.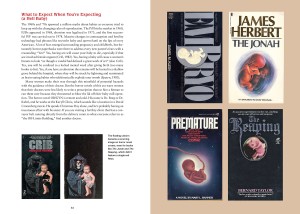 Hendrix organizes the books by theme or subject matter, also reflecting back to the parallels on what was happening in Society at that time. My fondest attribute of horror fiction is how it reflects on the status of society (particularly in the 1970s and 1980s), of its fears and anxieties, and brings it to life through chilling characters and creatures.
There hasn't been a boom like this in horror since. Unfortunately, rather than standing out as a strong and powerful genre, it's often classified as "thriller" for those in marketing.  How is it that a genre that boomed a few decades ago has to be marketed under a different name to get readers? One shouldn't be ashamed for reading horror, for I guarantee you are getting a stronger sense of our society by reading that particular title. Ignoring it means you are missing out on a truly cerebral reading experience.
All this said, this title is a must-read for all fans of horror, and those new to it wanting to experience titles that forever shaped the genre.  Highly, highly recommended.