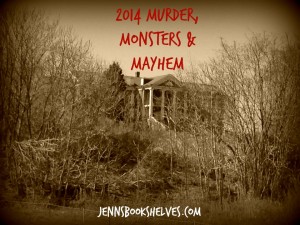 Each year, as Murder, Monsters & Mayhem comes to an end, I always experience bittersweet feelings.  While I love horror and thriller titles, specifically sharing my favorites with you all, I do look forward to the opportunity to read something a little lighter and less…deadly.  With that said, I really had a lot of fun this year and I hope you did as well. Here's a quick wrap-up of what transpired this month:
Did you have a favorite?
Remember to link up your horror/thriller posts on the Murder, Monsters & Mayhem link-up page! I'll keep this page live for the next several weeks.
Finally, the winner of the "Do You Believe in Ghosts?" ghost story contest is…..Kelly Rochford from A Book and a Beer! In case you missed it, her ghost story is entry #6!
That wraps all up! Again, I really do hope you enjoyed this year's Murder, Monsters & Mayhem! I'd love to hear your comments (yes, complaints) and suggestions for future celebrations!