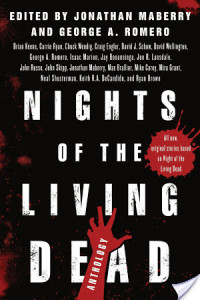 Nights of the Living Dead by Jonathan MaberryGeorge A. Romero
Published by St. Martin's Press on July 11, 2017
Genres: Collections & Anthologies, Fantasy, Fiction, Horror, Occult & Supernatural
Format: Audiobook

In 1968, the world experienced the uprising of a new and terrifying horror.  George A. Romero's movie Night of the Living Dead was releasing, launching a craze that has touched every aspect of our culture, with no hint of dying away.

Romero's work has inspired a host of creative talent, in both screen and on the pages.  Fans of zombie fiction and film have been witness to all sorts of zombie outbreaks, from before that fateful day in 1960 to zombies in the stars.

In this anthology, the great Jonathan Maberry takes us back to where, and when, it all began.  Joined with the godfather of zombies himself, they have pulled together brand new tales that take place within 48 hours of the outbreak.


Though the release of Romero's Night of the Living Dead took place before I was born, it's release definitely had an impact on my love of the horror genre and of zombies in particular.  I recall watching the film, and all of the other horror classics, with my father on Sunday afternoons. Saddened by Romero's passing, I was thrilled to see the release of this anthology and that his passion, much like zombies themselves, continue to thrive beyond the grave.
The audio production was phenomenal, the cast full of truly talented narrators, including my favorite, Ray Porter. Together, they relay a series of tales full of terror, a must listen (or read) for any fan of zombie fiction.
Anthologies can be known to be hits or misses; this was definitely a hit.  There wasn't a single story I didn't enjoy. Each was incredibly unique, the piece that brings them all together is the incredible talent of Romero, a talent so rich and inspiring it continues to influence writers, decades later.
Highly, highly recommended.