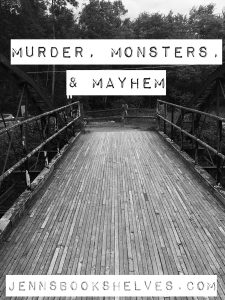 Happy October 1st or, as I like to call it, the first day of Halloween!  Our temps have been vacillating between blazing hot and seasonably chilly, so this kick-off to fall has been a little challenging.
Anyone who has followed this blog for any significant period of time understand just how much I love Halloween (and Fall in general)! To celebrate my obsession with the macabre, each year I host a month long feature in October called Murder, Monsters & Mayhem (Mx3). For the entire month, I'll be sharing some horror/thriller/mystery suspense titles that gave me the chills!
I'll officially kick off with the first review post tomorrow, but wanted to start the link-up for others reading spooktacular books this month!
Stay tuned for more….and keep your lights on!