I received this book for free from the publisher in exchange for an honest review. This does not affect my opinion of the book or the content of my review.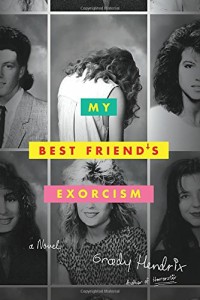 My Best Friend's Exorcism by Grady Hendrix
Also by this author: Paperbacks from Hell
Published by Quirk Books on May 17, 2016
Genres: Horror, Supernatural
Pages: 336
Source: the publisher

1988.  Abby and Gretchen have been best friends since 4th grade.  They've experienced everything together, their close friendship standing the test of time. Abby's family never had a lot financially, but Gretchen's did. Abby found herself spending most of her time at Gretchen's house, an adoptive daughter to Gretchen's caring, yet sometimes overbearing and controlling parents. It's quite a difference compared to the situation at her own home.  Her parents' jobs aren't lucrative and Abby is a constant reminder of what her birth did to their hopes of a future.

One evening, Abby and Gretchen and a group of their friends decide to go skinny-dipping in participating in drugs of a recreational nature. They lose track of Gretchen, who goes missing for several hours. When they do find her, something is off. Refusing to talk about it, they go about their everyday teen lives.  Yet something is different with Gretchen. Sure, the raging hormones of puberty can often make one seem like they are possessed by a demon.  What happens when they really are?
Hendrix is known most recently for his book Horrorstör, a horror story set in, of all places, an IKEA. I found it to be quite quirky and fun, so when I heard about his most recent book, I knew I had to have it.  Let's just say I wasn't quite prepared for how terrifying it is!
Let's take a step back.  The renowned film The Exorcist and the novel it was based on truly terrified me. This says a lot. I still can't watch the movie without shielding my eyes with a blanket or pillow. I haven't even attempted to watch the updated version with edited scenes. Just thinking about it sends chills down my spine.  The same feeling I had reading/watching it for the first time continues to today.  It terrifies me…and I absolutely loved it.
When I started reading My Best Friend's Exorcism, I was immediately enamored by the setting (1980s, woot!) and the references to music I still enjoy (I can't believe they call it oldies now!).  The format of the book, too, is ingenious. It's formatted much like the high school year books I own, collecting dust on one of my shelves, complete with the disingenuous messages from people you barely talked to then, and most definitely don't talk to now.
I loved following Gretchen and Abby's friendship! It started when Abby invited her entire class to her birthday (roller skating!!) but only Gretchen showed up. Friends for life after that, the two survived middle school and most of high school together. Then, one fateful night everything changes. Including the creepiness level of the book. First, it started with voices Gretchen heard, irritating pokes and scratching on her body that kept her awake at night.  It isn't long before she stops bathing, a smell of foulness surrounding her.  Abby does what she can to help her friend, but the isolation and horror of what is transpiring in Gretchen's bedroom at night forces her into seclusion.  Never did Abby predict what her friend was dealing with, and it isn't until those around them become affected does Abby realize this goes beyond your typical teen mood swing.
The level of description Hendrix uses to portray Gretchen's experience is absolutely chilling. I thought I'd seen/read it all with The Exorcist.  I was taken back to the first time I watched the movie, read the book. And I was absolutely terrified.
Perhaps it's the format of the book.  It almost feels like a parody of high school (and it kind of is) but man, I wasn't prepared to be terrified!  Much like all great horror, the fact that it could scare me so makes me love it even more! Just like his previous book, My Best Friend's Exorcism exceeds at proving the horrific can exist in the most mundane and normal of settings.
Hendrix, too, excels at capturing the weight, the value of high school friendships. Sure, I kid about not talking to those I went to high school with, yet there are some lasting friendships that were forged in those formative years!
All in all, highly, highly recommended (read it with the lights on)!