I received this book for free from the publisher in exchange for an honest review. This does not affect my opinion of the book or the content of my review.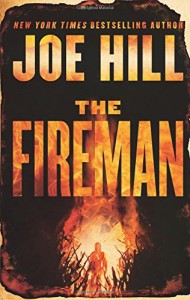 The Fireman by Joe Hill
Published by William Morrow on May 17, 2016
Genres: Horror, Suspense, Thriller
Pages: 768
Format: ARC
Source: the publisher

A horrific plague is raving the country.  Draco Incendia Trychophyton, referred to as Dragonscale by the average person, is a very contagious spore that lives on the skin of its victims, the only evidence of the contagion are stunning gold and black strips on the skin.  What makes this plague so deadly is that it causes its victim to burst into flames.  There is no cure, there is no way to prevent it from spreading like wildfire.

Harper Grayson is a young nurse; her patients often refer to her as Mary Poppins.  She stayed to treat hundreds of the infected, barely surviving when the hospital in which she worked burned to the ground.  When she learns she is not only infected, but pregnant as well, her head is spinning.  She and her husband, Jakob, vowed to end their own lives, together, if the became infected.  Now, however, Harper has the will to live. She witnessed infected mothers giving birth to healthy children. She vows to survive until she is able to deliver her child.

Meanwhile, the chaos surrounding them has led to the creation of Cremation Squads, a group of relentless vigilantes who hunt down those they believe to be infected and kill them.  With her life, and the life of her unborn child, at risk, Harper knows she must escape and find refuge with others like her.  She's rescued by a man she met briefly at the hospital. Referred to only as the Fireman, he wears a yellow fireman's jacket and uses his ability to control the fire within him to protect the infected.

The Fireman holds secrets that may help what remains of mankind.  Traumatized due to his own experiences of pain and loss, he's not willing to divulge them easily.  Harper forges a bond with him, however, determined to find a means of creating a future for her unborn child.
I don't think I need to remind you of my love of anything Joe Hill writes, correct? I've read most everything this brilliantly talented author has written, including all of his graphic novels. When I learned the premise of this most recent novel, a plague that leads to an apocalypse, I knew he would hit it out of the ballpark.  And boy, did he.
A truly unique premise with chilling plausibility, I completely devoured this book, its huge page count not dissuading me but encouraging me to move on. One would think that such a huge book would have wanes and ebbs in the momentum, but there is not one moment in the nearly 800 pages that my attention was lost.  With Hill, every word, every statement, every piece of dialogue, has meaning and purpose. He doesn't use filler to increase his word count. His words are art, joined together to create a truly brilliant masterpiece.
While he's known for his horror fiction, I wouldn't declare this as such.  Rather, it's an examination of characters, of victims, of how society reacts when hit with a devastating blow.  Sure, Dragonscale sounds terrifying, the effects of this terrifying infection are deadly to most.  Yet Hill doesn't treat it as such. Instead, he focuses on how those who can control it can actually turn it into something quite beautiful.  Rather than it being a curse, it's a blessing to some, a step in human evolution that cannot be avoided.  It isn't the plague that is the monster in this story; the real monster is that part of society that feels the need to destroy something they do not understand.
While the character of the Fireman is a important one, it is actually Harper who stands out in the hero in this book. I actually thought a title of "The Shine" or "Shine" would be more appropriate, yet I was quickly made aware of why that might not work :).
All in all, this is a brilliantly crafted piece of fiction.  I adored it so much that I plan on starting the audio soon (narrated by Kate Mulgrew!).  If you hesitate reading this novel because horror isn't your thing, give it a try.  Hill's ability to turn something horrific into a thing of beauty is proof enough of his incredible talent. Highly, highly recommended.