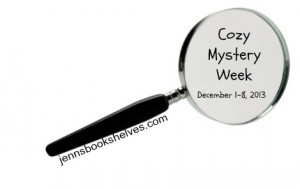 Well, this has certainly been a hectic and crazy week. My grandfather passed away last Friday so we traveled to West Virginia for his services. It was a beautiful trip, listening to other people talk about how my grandfather changed their life. Grandpa was always my Superman – there was really nothing he couldn't do – but it was so moving to see that he played this role for so many other people.
I contemplated postponing Cozy Mystery Week due to his passing, but he was the sort of man that wouldn't want us to alter our lives to much, or be too sad, at his passing. He would want us continue doing what we love, and talking about books is what I love!  So, here is a wrap-up of Cozy Mystery Week. Feel free to comment and mention some of your favorite series!
It's snowing outside today and I plan on doing nothing but curling up with a book! I hope you all have a wonderful Sunday!