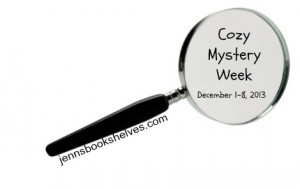 Mass Market Paperback: 304 pages
Publisher: Avon; English Language edition (August 30, 2005)
ISBN-10: 0060793481
Source: Library
Ophelia Jensen is a small-town librarian who refuses to acknowledge her psychic powers.  She moved to this small town after an incident from her past left her with severe post-traumatic stress syndrome.  Her grandmother, Abby, sees know reason to deny or hide her peers.  While Abby doesn't come right out and admit to being a witch, she's comfortable in her powers and appreciates what they offer.  Despite all her attempts to separate herself from her super-sensory abilities, dreams keep making their way into Ophelia's subconscious, forcing her to focus to track down the identity of a young woman who frequents her dreams.
When a dead body is found in the woods behind her home, Ophelia can't help but get involved in the investigation. Closely following her is Rick Davis, a stranger who has come to town to reportedly investigate a series of chemical thefts in town.  Something dark and dangerous is amiss and, despite all her attempts to rebuke her powers, Ophelia gets sucked in. With the help of Abby, the two must use their combined energies to bring justice to the small town.
As you may have noticed, I'm drawn to  cozy mysteries with a tinge of supernatural. Going in, I was expecting a light, simple read. Surprisingly,  Witch Way To Murder had much more depth to it than I could have ever expected. The backstory the author reveals about Ophelia's past was just enough to provide explanation as to some of her behavior without detailing too much.  If readers are anything like me, I'm desperate to know more about Ophelia's youth and the incident that forced her to abandon her powers.
Additionally, since I was born in the Appalachian myself, I truly appreciated that the author chose to focus on the natural, old-school form of magic and witchcraft native to this part of the country.  I'm really looking forward to learning more about the abilities that Ophelia and Abby share!
This series was recommended to me after I solicited cozy mystery series to feature this week. I'm genuinely interested in catching up with all the subsequent titles (6 in total).  If you are looking for a truly engaging supernatural cozy mystery, this is the series for you. Highly recommended.