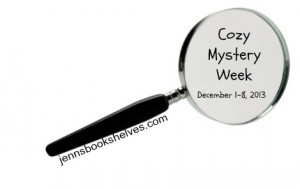 Series: A Haunted Guesthouse Mystery (Book 5)
Mass Market Paperback: 304 pages
Publisher: Berkley (November 5, 2013)
ISBN-10: 0425252396
Source: Author
Alison Kerby is used to a house full of spirits.  The guest house she recently purchased is home to a handful of spirits, one being her own father. Tourists have been flocking to her guest house in hopes of witnessing spiritual activity.  While Alison has never publicly accepted her role as the town's "ghost lady" she does appreciate the money that comes from these tours.   Alison is forced to juggle these spiritual performances with the various private investigation cases that seem to fall into her lap. When the town's resident homeless man, Everett,  comes to Alison for help in ridding himself of unwanted and unseen ghosts, she's had enough.  All she wants to do is focus on fixing up her Victorian guest home, giving guests an experience they won't soon forget.
When Everett is found murdered in a gas station men's room, Alison is shocked beyond belief. She's even more stunned when her nemesis hires her to investigate Everett's death. Now juggling two P.I. cases, Alison can't even begin to focus on the renovations required at her guest house or her own personal life.  She finds herself not only concerned about the health and safety of the living but the ongoing existence of the spirits she's come to consider as family.
This is my first experience with this cozy mystery series and I'm enamored!  While it is the fifth book in a series, I had no problem in catching up.  The author does a fantastic job of providing adequate backstory that will give readers to to the series enough details to continue without confusion.  Alison's character is endearing, despite the fact she is hesitant to live up to her powers and acknowledge that the rumors spread about her ghost, I mean guest, house are true.  Additionally, Copperman so perfectly converging two story lines. Never could have I imagined that they were connected. Honestly, I was shocked as it all came together so perfectly in the end!
I definitely plan on catching up with this series, starting from the beginning! I look forward to watching the characters evolve, watching the crazy antics of Alison's resident spirits as they interact with the living. Yet another supernatural cozy mystery to add to my list of favorites! Highly recommended.