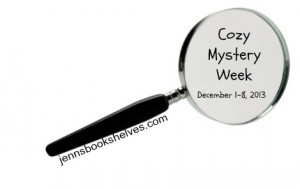 I'm thrilled that Cozy Mystery Week is finally here! Honestly, I use this feature as an excuse to make time to discover new cozy mystery series as well as give some attention to some of my long-time favorites!
Today, we're kicking off with a new cozy mystery series by Leigh Perry, the Skeleton in the Family series:
Series: A Family Skeleton Mystery (Book 1)
Mass Market Paperback: 304 pages
Publisher: Berkley (September 3, 2013)
ISBN-10: 0425255840
Source: Library
Georgia Thackery and her daughter, Madison, are used to picking up and moving relatively frequently.  This time, however, they find themselves back at Georgia's childhood home after she lands a job at the local college. This certainly isn't what Georgia aspired to be doing as working as an adjunct professor doesn't give her the prestige and reputation she desires. Yet when money is tight she's willing to do what she can to get by.
Since her parents, tenured professors, are on sabbatical, Georgia and Madison have their home to themselves. Well, unless you count the skeleton, Sid, who has been in the Thackery family since Georgia was a young girl. Sid is not your typical skeleton. He walks, talks and has a pretty outrageous sense of humor.  Unfortunately, he doesn't remember anything about his life before his demise. He spends most of his time in the attic or hidden in a bureau so he isn't discovered.
When Sid asks to go to a local anime convention so he can get out of the house for a bit, Georgia can't say no. Dressed in costume, Sid is able to blend in with the crowd.  There, however, he spots a woman that sends chills down his spine. Desperate to know who he was when he was living, he calls upon Georgia for help. Together, they find out how Sid may be connected to this woman.  When she turns up dead, however, Sid and Georgia become involved in a murder investigation as well!
I find I'm drawn to cozy mysteries with a supernatural element to them. Needless to say, A Skeleton in the Family meets this criteria! In investigating the murder, the reader has the opportunity to learn about Sid's life and identity. Perry does an outstanding job of explaining how Sid came to be. Additionally, she created incredibly endearing characters in Georgia, Madison and Sid. This is a series I really look forward to following!
Check back tomorrow as I feature yet another cozy mystery series!