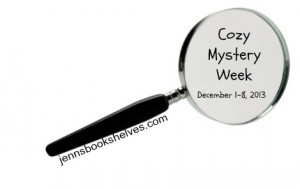 Hardcover: 320 pages
Publisher: Minotaur Books (December 17, 2013)
ISBN-10: 1250011043
Source: Publisher
Piper Prescott, recently divorced, opted to use all the money she received in the settlement to follow her lifelong dream: opening a spice shop, Spice it Up!, in her small Georgia town. For the grand opening, Piper arranged for a local chef to do a cooking demo in her store. When she finds this chef murdered, however, all her plans are ruined. To make matters worse, since she handled the murder weapon, a knife, she's the prime suspect.
Making matters worse, the brand new police Chief Wyatt McBride happens to be the arch nemesis of her ex-husband, CJ. McBride is desperate to make a name for himself and Piper feels he will do whatever it takes to solve this case. Desperate to uncover the identity of the true killer, Piper enlists her best friend, Reba Mae Johnson, and the duo do a bit of investigating on their own.  As she gets closer to finding more answers, Piper realizes that she is the killer's next intended victim. Will she (and her beloved spice shop!) survive long enough to bring the killer to justice?
Rosemary and Crime is an adorable and captivating Southern cozy mystery. Reading Piper's descriptions of spices and the dishes she uses them in had my mouth watering from page one! Additionally, the small Southern town full of charm and outrageous antics had me giggling.  The characters were lively and engaging, particularly Piper! I admit to rooting for her from the beginning! Her husband divorced her after over twenty years of marriage and instead of wallowing in depression, Piper follows her life-long dream! Add a truly intriguing murder to the spin and you have the recipe for a truly delightful new cozy mystery series!
This is a must-read for any fan of culinary mysteries! Highly, highly recommended!