Series: Locke & Key (Book 1)
Paperback: 152 pages
Publisher: IDW Publishing; Reprint edition (August 18, 2009)
ISBN: 978-1600103841
Source: Library
The Locke family's life is shattered after their father is murdered by a high school student. The three children – Ty, Kinsey and Bodie- are uprooted, moving to New England to live in Mr. Locke's family home in Lovecraft.  There, the children are forced to individually deal with the grief that surrounds their father's death. Ty feels the most guilt, feeling solely responsible for his father's death. While Kinsey was responsible for saving her younger brother, she feels guilt for not being as brave as everyone assumes. Poor young Bodie misses his father tremendously and is desperate for someone to answer his many questions about his father's death.
Their new home, Keyhouse, is a dark and mysterious mansion. If you have the right key, the doors will open to something much more than a room.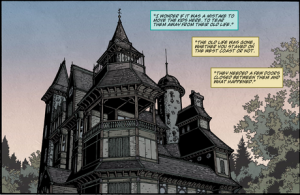 There, young Brodie finds a friend with a ghost that lives in a well.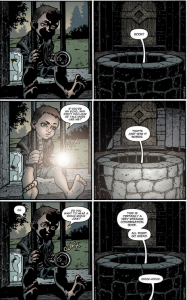 There are many who are interested in gaining access to the keys that will unlock Keyhouse's mysteries. There is an evil that lurks among the Locke children; an evil that has already resorted to murder once, not likely to stop at just one.
When I was planning this year's Murder, Monsters & Mayhem, I knew I had to feature at least one review of Locke & Key. Now that graphic novels are starting to be noticed  more, this is definitely a series that deserves attention. This series is a must-read for fans of well-crafted horror. Hill's chill-inducing storyline is further pronounced by the richly detailed and haunting illustrations by Gabriel Rodriguez.  Each character is expertly developed, both visually and in the written word.
Hill takes readers through a path that alternates between past and present, before and after Mr. Locke's brutal death. This shifting of time adds a starkness to the storyline; the reader is jolted from past to present much like the Locke children were forcibly removed from a "normal" family life to a life far removed from anything and everything they knew.
Rodriquez's illustrations add to the cold and dreary tone of the storyline. This certainly isn't an uplifting read and the illustrations compound the dark and haunting move. There are some pretty graphic scenes, limited however as to only induce terror when appropriate.
This volume is a collection of the first six comics in the series. I do recommend holding out and reading the volumes rather than each individual comic issue. Additionally, I'd order the first several volumes for I can guarantee with certainty that this is a series that will capture your attention immediately. The Locke & Key series just proves that Hill's talent has no boundaries.  Highly, highly recommended.
What are some of your favorite horror/supernatural comic/graphic novel series?