Hardcover: 144 pages
Publisher: Oni Press (April 5, 2011)
ISBN-10: 1934964379
Source: Personal copy
Dex is a private investigator in a bit of a slump. Not only is business slow, but she in debt with the Confederated Tribes of the Wind Coast to a tune of $18,000. Sue-Lynne, head of the Wind Coast's casino, offers to ignore the debt if Dex can find her missing granddaughter, Charlotte Suppa.  Unfortunately, Dex isn't the only one trying to get their hands on Charlotte. Dex finds herself in more trouble than when she started…if that's at all possible.
I started this series upon recommendation by Julie of Whimpulsive.  I was looking to introduce more graphic novels to my reading repertoire and Stumptown was a perfect fit! It combines my love of crime fiction with my growing adoration and appreciation of graphic novels.
What stands out about this graphic novel is the main character, Dex. She's flawed, with a number of personal issues and demons to be faced.  These flaws, however, are what make her a genuine and believable character.  She's tough, no-nonsense, but is still kind at heart (especially when it comes to her younger brother, Ansel, who has Down's Syndrome).
The dynamic and skilled illustrations by Matthew Southworth are another aspect of this graphic novel that truly stand out. They not complement the tone and feel of the storyline but also add a bit of visual intensity. Southworth captures the Portland, OR setting quite well, the city coming alive on the page.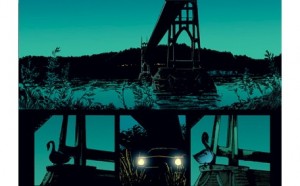 This is a series I definitely plan to continue. While the price point isn't low, it's well worth the value. This is a graphic novel I will repeatedly pull off of my shelf to pour through the pages. Highly, highly recommended.