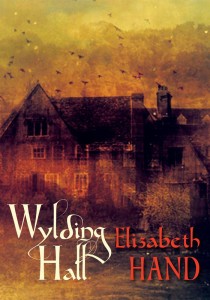 Wylding Hall by Elizabeth Hand
Published by PS Publishing Limited on July 1, 2015
Pages: 146
Format: eBook

It's the summer in the early 1970s.  A group of young musicians in a British acid-folk band are taking a break from the world and spending the summer focusing on their album.  They stay at Wylding Hall, an aged remote country home.  There, they are able to record the album that makes them famous, but at a considerable cost.

Years later, each of the surviving musicians tell their story of what transpired that summer.  Each experience, each version is slightly different than the next.  The question is, which version can be trusted? Which one most accurately portrays what really happened?
This was quite the read! Perfect for someone interested in a quick, scary read, but not one so terrifying that you are left haunted for days following!
The setting Hand created was magical, deeply rooted and drawn from the local folklore. The addition of a bunch of young musicians relishing in a host of recreational drugs makes for quite the interesting scene building!
At just over 100 pages, this was a fast read, but one that was expertly crafted and relayed. The format, each segment dedicated to the story of one of the surviving musicians or someone else close to the group, was quite compelling as well.
My only wish was perhaps some ephemera added to the novel, perhaps the photographs mentioned near the end? They play such a key role in the "reveal" that I feel readers would get a lot out of the experience if they were included as well.
Ultimately, however, this is THE perfect read for this Halloween season. Highly recommended.