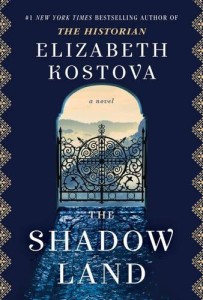 The Shadow Land by Elizabeth Kostova
Published by Text Publishing on April 11, 2017
Genres: Mystery
Pages: 504

Young Alexandra Boyd still feels tremendous guilt after the disappearance and assumed death of her brother.  She's traveled from the US to Bulgaria, hoping that a change of scenery will help get her mind off of her loss.

Shortly after her arrival in the city, she meets an elderly couple entering a taxi.  The woman is frail, and Alexandra provides a hand of support.  Upon her departure in her own taxi, she learns she has accidentally taken one of their pieces of luggage. Upon looking inside, she finds an ornate box carved with a name: Stoyan Lazarov.  Within the box lay an urn filled with human ashes.

Aided by her extremely knowledgeable and helpful taxi driver, she begins a search for the family so that she may return this precious cargo.  In doing so, she uncovers the history of Stoylan Lazarov; one that many in power have attempted to keep secret.
I originally discovered Kostava's writing with her dark and epic novel, The Historian.  Though it has been some time since I experienced her talent, that didn't lessen my anticipation.  As my reading time is rare, I opted to listen to the audio version.  A smart decision, for I was immersed within just a few minutes of the audio book.
Those who have read Kostova know that her books are not meant to be rushed, but savored and celebrated like a fine wine; this rings quite true with this most recent piece of work.  She builds up characters expertly, revealing one's history in due time, not to be rushed or done haphazardly.  In doing so she crafts characters so realistic and genuine, making it easy for readers to become immersed their story.
The history that Kostova reveals is dark, heartbreaking and painful. What I assumed would be a simple mystery turned into an elaborate exploration of this country's past, highlighting the power of endurance, of courage and compassion, despite the pain and suffering.
Highly, highly recommended.