Why yes, it is new book Tuesday! If you didn't get your fill in books released today from my previous list, I have more!
Following are the rest of the books publishing in August that I have my eye on! Included is the publisher's summary and a brief explanation of my interest in that particular title.
Emma in the Night by Wendy Walker (Aug. 8): 

One night three years ago, the Tanner sisters disappeared: fifteen-year-old Cass and seventeen-year-old Emma. Three years later, Cass returns, without her sister Emma. Her story is one of kidnapping and betrayal, of a mysterious island where the two were held. But to forensic psychiatrist Dr. Abby Winter, something doesn't add up. Looking deep within this dysfunctional family Dr. Winter uncovers a life where boundaries were violated and a narcissistic parent held sway. And where one sister's return might just be the beginning of the crime.

Disappearance. Family secrets. Dysfunctional family. Totally my jam. 
Unraveling Oliver by Liz Nugent (Aug. 22):

So begins Liz Nugent's astonishing debut novel—a chilling, elegantly crafted, and psychologically astute exploration of the nature of evil.

Oliver Ryan, handsome, charismatic, and successful, has long been married to his devoted wife, Alice. Together they write and illustrate award-winning children's books; their life together one of enviable privilege and ease—until, one evening after a delightful dinner, Oliver delivers a blow to Alice that renders her unconscious, and subsequently beats her into a coma.

In the aftermath of such an unthinkable event, as Alice hovers between life and death, the couple's friends, neighbors, and acquaintances try to understand what could have driven Oliver to commit such a horrific act. As his story unfolds, layers are peeled away to reveal a life of shame, envy, deception, and masterful manipulation.

With its alternating points of view and deft prose, Unraveling Oliver is "a page-turning, one-sitting read from a brand new master of psychological suspense" (Sunday Independent) that details how an ordinary man can transform into a sociopath.

I've heard nothing but praise about this one! A number of people whose opinion I value have recommended this one; it's been bumped to the top of my "must read" list!
The Saboteur by Andrew Gross (Aug. 22): 

February, 1943. Both the Allies and the Nazis are closing in on attempts to construct the decisive weapon of the war.

Kurt Nordstrum, an engineer in Oslo, puts his life aside to take up arms against the Germans as part of the Norwegian resistance. After the loss of his fiance, his outfit whittled to shreds, he commandeers a coastal steamer and escapes to England to transmit secret evidence of the Nazis's progress towards an atomic bomb at an isolated factory in Norway. There, he joins a team of dedicated Norwegians in training in the Scottish Highlands for a mission to disrupt the Nazis' plans before they advance any further.

Parachuted onto the most unforgiving terrain in Europe, braving the fiercest of mountain storms, Nordstrum and his team attempt the most daring raid of the war, targeting the heavily-guarded factory built on a shelf of rock thought to be impregnable, a mission even they know they likely will not survive. Months later, Nordstrum is called upon again to do the impossible, opposed by both elite Nazi soldiers and a long-standing enemy who is now a local collaborator—one man against overwhelming odds, with the fate of the war in the balance, but the choice to act means putting the one person he has a chance to love in peril. 

Based on the stirring true story, The Saboteur is Andrew Gross's follow-up to the riveting historical thriller, The One Man. A richly-woven story probing the limits of heroism, sacrifice and determination, The Saboteur portrays a hero who must weigh duty against his heart in order to singlehandedly end the one threat that could alter the course of the war.

I read and devoured the previous book, The One Man.  It is truly full of action, compassion, thrill. I'm thrilled to see there is a sequel; I can't wait to get my hands on a copy.

The History of Bees by Maja Lunde (Aug. 22): 

In the spirit of Station Eleven and Never Let Me Go, this dazzling and ambitious literary debut follows three generations of beekeepers from the past, present, and future, weaving a spellbinding story of their relationship to the bees—and to their children and one another—against the backdrop of an urgent, global crisis.

England, 1852. William is a biologist and seed merchant, who sets out to build a new type of beehive—one that will give both him and his children honor and fame.

United States, 2007. George is a beekeeper fighting an uphill battle against modern farming, but hopes that his son can be their salvation.

China, 2098. Tao hand paints pollen onto the fruit trees now that the bees have long since disappeared. When Tao's young son is taken away by the authorities after a tragic accident, she sets out on a grueling journey to find out what happened to him.

Haunting, illuminating, and deftly written, The History of Bees joins these three very different narratives into one gripping and thought-provoking story that is just as much about the powerful bond between children and parents as it is about our very relationship to nature and humanity.

Talk about a timely read.  It's a little known (or perhaps recognized) fact that the health and vitality of bees has a direct correlation to the status of our environment.  If you read about a mass extinction of bees, you have something to worry about.  This is what has compelled me to want to read this title, as well as the comparisons to Station Eleven.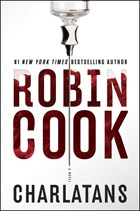 Charlatans by Robin Cook (Aug. 22):

Newly minted Chief Resident at Boston Memorial Hospital Noah Rothauser is swamped in his new position, from managing the surgical schedules to dealing with the fallouts from patient deaths. Known for its medical advances, the famed teaching hospital has fitted several ORs as 'hybrid operating rooms of the future'—an improvement that seems positive until an anesthesia error during a routine procedure results in the death of an otherwise healthy man. Noah suspects Dr. William Mason, an egotistical, world-class surgeon, of an error during the operation and for tampering with the patient's record afterwards. But Mason is quick to blame anesthesiologist Dr. Ava London.

When more anesthesia-related deaths start to occur, Noah is forced to question all of the residents on his staff, including Ava, and quickly realizes there's more to her than what he sees. A social media junkie, Ava has created multiple alternate personas for herself on the internet. With his own job and credibility now in jeopardy, Noah must decide which doctor is at fault and who he can believe—before any more lives are lost.

Robin Cook was my introduction to medical thrillers. It's been a while since I've read his book.  When I got the pitch for this one, I couldn't say no!
Valley of Terror by Zhou Haohui (Aug. 29):

A mysterious "fear disease" is scaring to death the citizens of Longzhou, China. Literally. Victims go insane or die frozen in terror, while survivors rant maniacally about demons infiltrating the city. But what's really behind the sudden epidemic? To find the answer, Chief Inspector Luo Fei teams up with a controversial historian and a brilliant psychologist to track down the true source of the illness and halt the wave of horror that threatens the metropolis.

As the trio ventures to the primitive jungles and mountains of Yunnan, they're haunted by tales of a seventeenth-century general whose demonic soul, said to have been sealed away in a vial of his blood, has been unleashed on the modern world. Now, trekking deep into the legendary Valley of Terror, they find themselves being stalked by someone—or something—daring them to uncover the truth. And as superstition, science, and history collide, their discovery could be as heart-stopping as fear itself.

This is going to be the oddball of my list. This title is published by Amazon, something I tend to avoid.  That said, I'm quite intrigued by the premise, perhaps enough to push past my feelings?
The Resurrection of Joan Ashby by Cherise Wolas (Aug. 29)

An audacious and dazzling debut novel–think Shirley Jackson meets Claire Messud and Lauren Groff–about a woman who struggles with the sacrifices required by motherhood and how an unthinkable betrayal confirms her deepest fears.

When Joan Ashby meets her future husband, Martin, she is frank from the beginning: nothing can stand in the way of her career. Joan Ashby is a prodigy, a darling of the literary world by age 25, acclaimed for her dark and singular stories. But after her marriage, the life Joan intended to leave spins away from her, and she finds herself raising two sons in a Virginia suburb. She has made her peace with this—or at least that's what she tells herself as she steals moments to write between school drop-offs and household chores. She can never be ordinary, though, and her precocious young sons grow up with the burden of her genius. 

Two decades later, Joan's sons are grown and she has finally completed her masterpiece, the novel she was destined to write. But just as she is poised to reclaim the spotlight, a betrayal of Shakespearean proportion threatens to undo everything she has worked for. 

Epic, propulsive, and incredibly ambitious, The Resurrection of Joan Ashby is a story about sacrifice and motherhood, privilege and the weight of expectation. Cherise Wolas's debut introduces an indelible heroine who is candid about her struggles and unapologetic in her ambition. 

I think the summary speaks for itself. I'm quite intrigued about this one!
There you have it! My most anticipated books of August! What titles did I miss? Which ones are you looking forward to most?