I received this book for free from in exchange for an honest review. This does not affect my opinion of the book or the content of my review.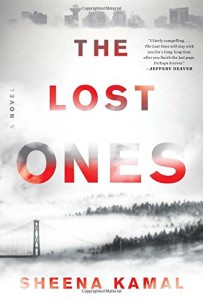 The Lost Ones by Sheena Kamal
Published by HarperCollins on July 25, 2017
Genres: Fiction, Psychological, Suspense, Thrillers
Pages: 352
Format: Hardcover

Fifteen years ago, an savage attack left Nora Watts on the brink of death.  Discovering herself to be pregnant by her attacker, she puts her daughter up for adoption.

All these years later, she receives a call from her daughter's adoptive parents.  Bonnie has gone missing.  The police believe her to be a runaway and are not pursuing the case any further. Desperate, they reach out to Nora, her birth mother, for help.

Recalling what it was like to be in the foster system as a child, where no one searched for you when you went missing, Nora begins the search for the daughter.  In doing so, she comes head-to-head with details of her past that, until now, she was unable to remember. She finds herself wrapped up in a conspiracy that takes her from her home in Vancouver to the cold mountains of Canada, all for a daughter she'd abandoned, and all but forgotten, years ago.
The cover of this title eludes to his, but this is a pretty dark and bleak book.  I admit, when I finished reading I found myself immediately questioning my feelings about this book.  Nora is a dark character, riddled with a painful past that long ago abandoned.  She's certainly not a likable character, nor does she care to be.  And, at first, this influenced my feelings about this particular title.
Until I stepped back and thought about other unlikable characters in series I enjoy.  The first name that popped into my mind was Lee Child's Jack Reacher. Reacher is completely flawed, yet I still appreciate (and quite honestly adore) his character.
Could it be that I don't like Nora's character because she's unlikable…and female?  How does a character's sex determine our feelings about their likability?
So I went back and revisited this book from a completely different perspective.  It is completely full of twists and turns, taking the reader on a path, the end of which no one knows is coming.  Never could have I imagined the outcome.  I know that sounds cliche, but in this case its quite true.  Sure, you have to suspend disbelief a bit in order to accept it, but once you do you are rewarded with quite the adventurous read.
Upon learning that this is the first in a new series, many of my issues about lack of depth of some of the secondary characters are answered.  This is just the jumping off point; I can't wait to read more about Nora's escapades!
Thank you to TLC Book Tours for the opportunity to take part in this tour!