I missed posting a week in review last week. We were in Hampton, VA for my husband's family reunion. Not a lot of reading time, but plenty of time to enjoy family and some pretty excellent food.
This week, I've continued to work on "renovating" our home office. If you missed it, a few weeks ago I repainted a bookshelf to give it a new life. We picked up a reading chair for Justin. The moment he saw it, he had to have it. He thought it looked like a throne!  I think he likes it, what do you think?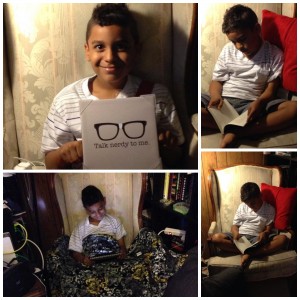 After picking up the chair, the next project was working on the wall art. I could only find a few items in stores that I liked (including the "Talk Nerdy to Me" canvas Justin is holding.  So, we decided to make our own!  I printed off some of my favorite bookish quotes and images and framed them using a simple photo mat.  What do you think?
Next up, a new chair for the desk my husband and I share.  It's a bit of a challenge for I want antique looking chair that matches our library theme.  John wants a big comfortable desk chair. Hopefully we can find something we both like! The final piece to the redecorating is bookish curtains my mom started making a few years ago. They just need a little more work before I can hang them. I'm thrilled to see it all come together!
In case you missed it, here's what's happened on the blog in the last few weeks:
How was your reading week?