Yesterday, I shared the first part of a very eclectic list of August books I am anticipating. It shouldn't shock you that, since creating that list, I've discovered a slew of other books to add to my list.  Therefore, today I am sharing an amended second part of my most anticipated books of August!
Servants of the Storm by Delilah S. Dawson (Aug. 5):
Dovey learns that demons lurk in places other than the dark corners of her mind in this southern gothic fantasy from the author of the Blud series.
A year ago, Hurricane Josephine swept through Savannah, Georgia, leaving behind nothing but death and destruction—and taking the life of Dovey's best friend, Carly. Since that night, Dovey has been in a medicated haze, numb to everything around her.
But recently she's started to believe she's seeing things that can't be real…including Carly at their favorite café. Determined to learn the truth, Dovey stops taking her pills. And the world that opens up to her is unlike anything she could have imagined.
As Dovey slips deeper into the shadowy corners of Savannah—where the dark and horrifying secrets lurk—she learns that the storm that destroyed her city and stole her friend was much more than a force of nature. And now the sinister beings truly responsible are out to finish what they started.
The Frozen Dead by Bernard Minier (Aug. 12):
A suspenseful and chilling murder mystery set in a high-security asylum for the criminally insane and the snowy mountains of the French Pyrenees
In a snowbound valley, deep in the French Pyrenees, a dark story of madness and revenge is unfolding.
The first victim is a horse: its headless, flayed body hangs suspended from the edge of a frozen cliff. On the same day as the gruesome discovery takes place, Diane Berg, a young psychiatrist starts her first job at a high security asylum for the criminally insane, just a few miles away. She is baffled by the slightly unorthodox methods the asylums's director uses, and then greatly alarmed when she realizes that drugs are disappearing from within the fortified institution while someone seems to be slipping out at night. Commandant Martin Servaz, a charismatric, Toulouse city cop fond of quoting Latin, can't believe he has been called out over the death of an animal. But there is something disturbing about this crime that he cannot ignore. Then DNA from one of the most notorious inmates of the asylum, a highly intelligent former prosecutor who is accused of killing and raping several women, is found on the corpse… and a few days later the first human murder takes place. Servaz and his colleague, the mysterious Irene Ziegler, must use all their skill to solve the terrifying mystery.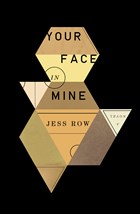 Your Face in Mine by Jess Row (Aug. 14):
One afternoon, not long after Kelly Thorndike has moved back to his hometown of Baltimore, an African American man he doesn't recognize calls out to him. To Kelly's shock, the man identifies himself as Martin, who was one of Kelly's closest friends in high school—and, before his disappearance nearly twenty years before, skinny, white, and Jewish. Martin then tells an astonishing story: After years of immersing himself in black culture, he's had a plastic surgeon perform "racial reassignment surgery"—altering his hair, skin, and physiognomy to allow him to pass as African American. Unknown to his family or childhood friends, Martin has been living a new life ever since.
Now, however, Martin feels he can no longer keep his new identity a secret; he wants Kelly to help him ignite a controversy that will help sell racial reassignment surgery to the world. Kelly, still recovering from the death of his wife and child and looking for a way to begin anew, agrees, and things quickly begin to spiral out of control.
Inventive and thought-provoking, Your Face in Mine is a brilliant novel about cultural and racial alienation and the nature of belonging in a world where identity can be a stigma or a lucrative brand.

The Black Road by Tania Carver (Aug. 15):
The honeymoon is over for newlywed criminologist Marina Esposito. Her house is in flames. Her detective husband is in a coma. Her baby daughter is missing. And then her phone rings…
"I have something you've lost," the voice said. "Your daughter."
The voice at the other end wants to play a game. If Marina completes a series of bizarre tasks within three days, she wins her daughter's life. If she fails, her little girl dies. The clock starts now.
In a desperate race against time, Marina begins to suspect that the madman is someone she knows – someone with a past as troubled as her own. But the truth is far darker than she imagines..
Three Story House by Courtney Miller Santo (Aug. 19):
Renovating an historic Memphis house together, three cousins discover that their spectacular failures in love, career, and family provide the foundation for their future happiness in this warm and poignant novel from the author of The Roots of the Olive Tree that is reminiscent of The Postmistress, The Secret Life of Bees, and Kristin Hannah's novels
Nearing thirty and trying to avoid the inescapable fact that they have failed to live up to everyone's expectations and their own aspirations, cousins and childhood best friends Lizzie, Elyse, and Isobel seek respite in an oddly-shaped, three-story house that sits on a bluff sixty feet above the Mississippi.
As they work to restore the almost condemned house, each woman faces uncomfortable truths about their own failings. Lizzie seeks answers to a long-held family secret about her father in her grandmother's jumble of mementos and the home's hidden spaces. Elyse's obsession with an old flame leads her to a harrowing mistake that threatens to destroy her sister's wedding, and Isobel's quest for celebrity tempts her to betray confidences in ways that would irreparably damage her two cousins.
Told in three parts from the perspective of each of the women, this sharply observed account of the restoration of a house built out of spite, but filled with memories of love is also an account of friendship and how relying on each other's insights and strengths provides the women a way to get what they need instead of what they want.
One Kick by Chelsea Cain (Aug. 19):
Famously kidnapped at age six, Kick captured America's hearts when she was rescued five years later. Now, twenty-one, she finds herself unexpectedly entangled in a missing child case that will put her talents to the test.
Trained as a marksman, lock picker, escape artist and bomb maker by her abductor, Kick could not return to the life of the average young girl after her release. So, in lieu of therapy, she mastered martial arts, boxing, and knife throwing; learned how to escape from the trunk of a car, jimmy a pair of handcuffs, and walk without making a sound—all before she was thirteen.
Kick has trained herself to be safe. But then two children go missing in three weeks, and an enigmatic and wealthy former weapons dealer approaches her with a proposition. John Bishop uses his fortune and contacts to track down missing children. Not only is he convinced Kick can help recover the two children—he won't take no for an answer.
With lives hanging in the balance, Kick is set to be the crusader she has always imagined herself. Little does she know that the answers she and Bishop seek are hidden in one of the few places she doesn't want to navigate—the dark corners of her own mind.
A heart-stopping, entertaining thrill ride, One Kick announces the arrival of a blistering new series by a stunning talent in the thriller realm.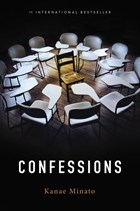 Confessions by Kanae Minato (Aug. 19):

Her pupils murdered her daughter. Now she will have her revenge.
After calling off her engagement in the wake of a tragic revelation, Yuko Moriguchi had nothing to live for except her only child, four-year-old child, Manami. Now, following an accident on the grounds of the middle school where she teaches, Yuko has given up and tendered her resignation.
But first she has one last lecture to deliver. She tells a story that upends everything her students ever thought they knew about two of their peers, and sets in motion a diabolical plot for revenge.
Narrated in alternating voices, with twists you'll never see coming, Confessions probes the limits of punishment, despair, and tragic love, culminating in a harrowing confrontation between teacher and student that will place the occupants of an entire school in danger. You'll never look at a classroom the same way again.
Don't Look Back by Gregg Hurwitz (Aug. 19):
Eve Hardaway, newly single mother of one, is on a trip she's long dreamed of—a rafting and hiking tour through the jungles and mountains of Oaxaca, in southern Mexico. Eve wanders off the trail, to a house in the distance with a menacing man in the yard beyond it, throwing machetes at a human-shaped target. Disturbed by the sight, Eve moves quickly and quietly back to her group, taking care to avoid being seen. As she creeps along, she finds a broken digital camera, marked with the name Teresa Hamilton. Later that night, in a rarely used tourist cabin, she finds a discarded prescription bottle—also with the name Teresa Hamilton. From the camera's memory card, Eve discovers Teresa Hamilton took a photo of that same menacing looking man in the woods. Teresa Hamilton has since disappeared.
Now the man in the woods is after whoever was snooping around his house. With a violent past and deadly mission, he will do anything to avoid being discovered.  A major storm wipes out the roads and all communication with the outside world. Now the tour group is trapped in the jungle with a dangerous predator with a secret to protect. With her only resource her determination to live, Eve must fight a dangerous foe and survive against incredible odds—if she's to make it back home alive.
Amity by Micol Ostow (Aug. 26):
Connor's family moves to Amity to escape shady business deals. Ten years later, Gwen's family moves to Amity for a fresh start after she's recovered from a psychotic break.
But something is not right about this secluded house. Connor's nights are plagued with gore-filled dreams of demons and destruction. Dreams he kind of likes. Gwen has lurid visions of corpses that aren't there and bleeding blisters that disappear in the blink of an eye. She knows Amity is evil and she must get her family out, but who would ever believe her?
Amity isn't just a house. She is a living force, bent on manipulating her inhabitants to her twisted will. She will use Connor and Gwen to bring about a bloody end as she's done before. As she'll do again.
Alternating between parallel narratives, Amity is a tense and terrifying tale suggested by true-crime events that will satisfy even the most demanding horror fan.
Sanctum: An Asylum Novel by Madeleine Roux (Aug. 26):
Back at their high schools, Dan, Abby, and Jordan are plagued with nightmares about the traumatic summer they shared in the Brookline asylum. Much as they'd love to move on with their lives, someone is determined to keep the terror going, sending the three teens photos of what looks like an old-timey carnival, with no note and no name. Then Dan receives a list of coordinates pointing to abandoned houses in the town near Brookline, and he is convinced that the only way to end the nightmare once and for all is to return to New Hampshire College and follow the trail.
But when they arrive under the guise of a prospective students' weekend, Dan and his friends are shocked to discover that the carnival from their photos isn't just real, it's here on campus. And as they sneak away from their undergrad hosts to visit the houses on their list, they find secrets far darker than anything they'd imagined—secrets about the real source of the late asylum warden's power, and a society known today only as the Scarlets.
Now, haunted by the ghosts of a town with a terrible past and pursued by a host of very real enemies, Dan and his friends can only hope to make it out of this campus visit alive.

Fives and Twenty-Fives by Michael Pitre (Aug 26):
It's the rule—always watch your fives and twenty-fives. When a convoy halts to investigate a possible roadside bomb, stay in the vehicle and scan five meters in every direction. A bomb inside five meters cuts through the armor, killing everyone in the truck. Once clear, get out and sweep twenty-five meters. A bomb inside twenty-five meters kills the dismounted scouts investigating the road ahead.
Fives and twenty-fives mark the measure of a marine's life in the road repair platoon. Dispatched to fill potholes on the highways of Iraq, the platoon works to assure safe passage for citizens and military personnel. Their mission lacks the glory of the infantry, but in a war where every pothole contains a hidden bomb, road repair brings its own danger.
Lieutenant Donavan leads the platoon, painfully aware of his shortcomings and isolated by his rank. Doc Pleasant, the medic, joined for opportunity, but finds his pride undone as he watches friends die. And there's Kateb, known to the Americans as Dodge, an Iraqi interpreter whose love of American culture—from hip-hop to the dog-eared copy of Huck Finn he carries—is matched only by his disdain for what Americans are doing to his country.
 
Returning home, they exchange one set of decisions and repercussions for another, struggling to find a place in a world that no longer knows them. A debut both transcendent and rooted in the flesh, Fives and Twenty-Fives is a deeply necessary novel.
The Story of Land and Sea by Katy Simpson (Aug. 26):
Drawn to the ocean, ten-year-old Tabitha wanders the marshes of her small coastal village and listens to her father's stories about his pirate voyages and the mother she never knew. Since the loss of his wife Helen, John has remained land-bound for their daughter, but when Tab contracts yellow fever, he turns to the sea once more. Desperate to save his daughter, he takes her aboard a sloop bound for Bermuda, hoping the salt air will heal her.
Years before, Helen herself was raised by a widowed father. Asa, the devout owner of a small plantation, gives his daughter a young slave named Moll for her tenth birthday. Left largely on their own, Helen and Moll develop a close but uneasy companionship. Helen gradually takes over the running of the plantation as the girls grow up, but when she meets John, the pirate turned Continental soldier, she flouts convention and her father's wishes by falling in love. Moll, meanwhile, is forced into marriage with a stranger. Her only solace is her son, Davy, whom she will protect with a passion that defies the bounds of slavery.
In this elegant, evocative, and haunting debut, Katy Simpson Smith captures the singular love between parent and child, the devastation of love lost, and the lonely paths we travel in the name of renewal.
Lock in by John Scalzi (Aug. 26):
*Teen son's most anticipated book of the summer*
Not too long from today, a highly contagious virus makes its way across the globe. Most who get sick experience nothing worse than flu, fever, and headaches. But for the unlucky one percent—nearly five million souls in the United States alone—the disease causes "lock in": Victims are fully awake and aware, but unable to move or respond to any stimulus. The disease affects young, old, rich, poor, people of every color and creed. The world changes to meet the challenge.
A quarter of a century later, in a world shaped by what's now known as "Haden's syndrome," rookie FBI agent Chris Shane is paired with veteran agent Leslie Vann. They are assigned what appears to be a Haden-related murder at the Watergate Hotel, with a suspect who is an "Integrator"—someone who can let the locked in borrow their bodies for a time. If the Integrator was carrying a Haden client, then naming the suspect for the murder will be that much more complicated.
But as Shane and Vann begin to unravel the threads of the murder, it becomes clear that the real mystery—and the real crime—is bigger than anyone could have imagined.  The investigation takes Shane and Vann from the halls of corporate power to the virtual spaces of the locked in, and to the very heart of an emerging, surprising new human culture.
Summer of the Dead by Julia Keller (Aug. 26):
High summer in Acker's Gap, West Virginia—but no one's enjoying the rugged natural landscape. Not while a killer stalks the small town and its hard-luck inhabitants. County prosecutor Bell Elkins and Sheriff Nick Fogelsong are stymied by a murderer who seems to come and go like smoke on the mountain. At the same time, Bell must deal with the return from prison of her sister, Shirley—who, like Bell, carries the indelible scars of a savage past.
In the third mystery chronicling the journey of Bell Elkins and her return to her Appalachian hometown, we also meet Lindy Crabtree—a coal miner's daughter with dark secrets of her own, secrets that threaten to explode into even more violence.
Acker's Gap is a place of loveliness and brutality, of isolation and fierce attachments—a place where the dead rub shoulders with the living, and demand their due.
Whew! What an exhausting list!
So tell me, what did I miss? What August books are you anticipating most?