With family in town last weekend, despite my attempts to participate in the readathon I was pretty AWOL from the blog. I have two weeks of posts to catch you up on!  We're coming in on the last week of Murder, Monsters & Mayhem. I hope you've enjoyed the wide range of books I've been recommending!
Here's what happened in the last two weeks on the blog: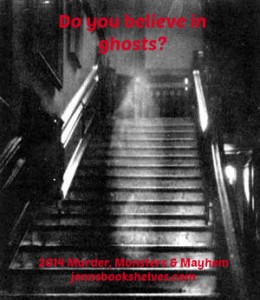 As the end of Murder, Monsters & Mayhem nears, so does your opportunity to submit your ghost story for the "Do You Believe in Ghosts" contest. I've received quite a few scary stories, both through email and posted in the comments. Have one to share? If you win, you'll win a copy of many of the books I've posted about this month.
Additionally, everyone who links up a horror/thriller/supernatural post  will win a special "goody bag" for participating.
How was your reading week?