You may have noticed that this blog has been quite for the past several days. I've spent the last few days in the beautiful Asheville, NC surrounded by a host of readers and writers.
Last Thursday, I hopped on a plane the short trip down to Asheville to attend Booktopia Asheville.  For those of you unfamiliar, Booktopia is a series of weekend reader/author retreats organized by Ann Kingman and Michael Kindness, hosts of the podcast Books On the Nightstand.  Booktopia is held in three cities each year; this year it was held in Manchester, VT; Boulder, CO; and Asheville NC.  After trying to get to a few of the previous Booktopia events I was thrilled to get in this year. Registration is limited to 85 to maintain the intimate setting for which Booktopia is known.
I was joined by three other bloggers: Jennifer (Literate Housewife), Jennifer (Bookalicious Mama) and Shannon (River City Reading). And what a wonderful weekend we had.
Before the retreat officially kicked off, the two Jennifer's and I embarked on our own self-navigated filed trip to visit the site of Highland Hospital, the mental institution where Zelda Fitzgerald lost her life in a fire.  Although the building was lost in the fire, beneath this large, majestic tree we found a plaque dedicated to Zelda.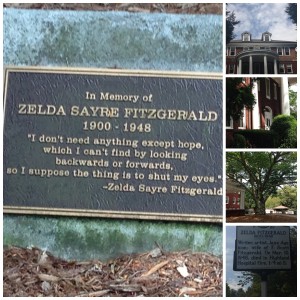 Following this, we visited Grove Park Inn, the hotel where F. Scott Fitzgerald stayed while visiting Zelda during her many stays at Highland Hospital. Another breath-taking venue!

This was just the start of an incredibly rewarding weekend. In just a matter of a few days, I met/saw the following authors:
 Krista Bremer, MY ACCIDENTAL JIHAD
Wiley Cash, THIS DARK ROAD TO MERCY
Kim Church, BYRD
Denise Kiernan, The Girls of Atomic City: The Untold Story of the Women Who Helped Win World War II
Ariel Lawhon, THE WIFE, THE MAID AND THE MISTRESS
E. Lockhart, WE WERE LIARS
Anthony Marra, A CONSTELLATION OF VITAL PHENOMENA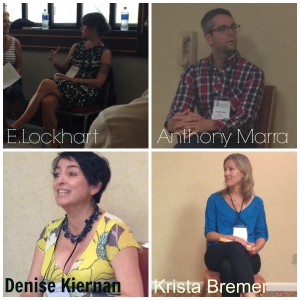 Not only did I get to meet this outstanding authors, but I also had the opportunity to participate in dialogue in a small group setting that you just can't find at any other book event.  I do plan on writing more about what each of the authors discussed as part of my reviews of each book, so stay tuned!
Also,  a special thank you to Malaprops, the independent bookstore that hosted many of the events.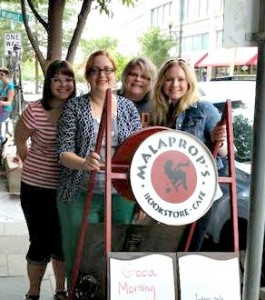 Following is just a snapshot of some of the books I picked up during my visit:
If Booktopia does sound like the book event for you, I do encourage you to look into it. They are held annually in three locations around the country. This may have been my first Booktopia, but I doubt it will be my last. To be surrounded by so many book loving people…there is no equal to how this feels.
Thank you again, Ann and Michael, for this amazing experience.