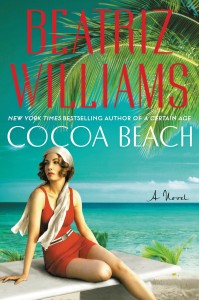 Cocoa Beach by Beatriz Williams
Also by this author: Tiny Little Thing, Along the Infinite Sea, Fall of Poppies: Stories of Love and the Great War, A Certain Age
Published by HarperCollins on June 27th 2017
Genres: Fiction, General
Pages: 608
Format: Hardcover

Virginia Fortescue, desperate to flee her oppressive home rich with family secrets, heads to do her part for the war effort and goes to France, volunteering as an ambulance driver for the Red Cross.  There, she meets a British army surgeon,  Captain Simon Fitzwilliam.  Before meeting Simon, she had little hopes of finding love; her tragedy-ridden past all but put an end to it.  They marry, but it isn't long before Simon's own family secrets damage any chance for a successful marriage.  Virginia, pregnant with their child, returns to New York to the sister and father she left behind.

Five years later and newly widowed, Virginia is summoned to Cocoa Beach, Florida, to settle Simon's estate.  Despite the evidence, Virginia cannot believe Simon was killed in a fire that also destroyed the family home he built for Virginia and their daughter.  Though separated from Simon since the early days of their marriage, she feels the need to uncover the truth.

The world of Cocoa Beach is breathtaking, rich with a vibrant beauty unknown in New York City.  This booming location is full of citrus groves, beautiful  white beaches, and looming danger that threatens Virginia and her young daughter.  That such danger lurks among such lush beauty is hard to comprehend, yet Virginia realizes that it's a force she must reckon with if it means a happy and safe future for herself and her daughter.  Joined by her brother and sister-in-law,  she embarks on a mission to uncover the secrets behind her estranged-husband's business practices. What she uncovers is far more harrowing that even she can comprehend.
Beatriz Williams is one of my favorite historical fiction authors. I impatiently await each book release, devouring it the moment I get my hands on it.  This too, rings true for this most recent release.  What a perfect setting for a summer read!
What I appreciate about Williams' writing is her ability to create this "universe" of characters whose lives are interwoven in each of her novels.  It's quite enjoyable to be reading along and a familiar character to pop into the narrative, though only just in passing.  That she gives each character their own novel pretty much guarantees a slew of more books to come.
I think I appreciated this title a little more because the feeling of mystery and suspense.  I had the pleasure of attending Williams' event at my local indie bookstore, so I got a little backstory into the evolution of this title.  What she revealed about one of the secondary characters confirmed my suspicion; this was certainly a dark and twisty read at times.
Bottom line, Williams is an author chock-full of talent.  Her titles are each so expertly researched.  You often forget that it's a modern writer penning about the past; she immerses readers so much into the setting that you lose all track of time and space.  I cannot wait to read what she has lined up next. I cannot get enough of her characters!  Highly, highly recommended.