I received this book for free from the publisher in exchange for an honest review. This does not affect my opinion of the book or the content of my review.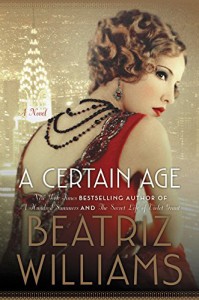 A Certain Age by Beatriz Williams
Also by this author: Tiny Little Thing, Along the Infinite Sea, Fall of Poppies: Stories of Love and the Great War, Cocoa Beach
Published by William Morrow on June 28. 2016
Genres: Historical Fiction, Suspense
Pages: 336
Source: the publisher

Socialite Theresa Marshall is head over heels in love with a man...not her husband. Octavian Rofrano is a pilot, hero of the Great War, and half Theresa's age.  It's the Jazz Age and New York City is transforming into a new city. That said, divorce is still out of the question.  Luckily, Theresa and her husband have an arrangement.  A philanderer himself, he's had his share of affairs. So, Theresa and Octavian, whom she lovingly refers to as "the Boy" are free to continue with their affair.

When her bachelor brother, Ox, decides to take the hand of the daughter of a recently wealthy  inventor, Theresa aids in continuing a long-standing family tradition. She entrusts Octavian to serve as Ox's cavalier, to present young Sophie Fortescue with the family's diamond rose ring...and to do a little snooping into the Fortescue family's background.

What Theresa wasn't prepared for was the connection Octavian and Sophie shared upon meeting.  A love triangle is formed between the trio and Octavian unlocks a a devastating family secret, spiraling this innocently crafted relationship into a saga involving illicit affairs, secrets, and murder.

Based on the Richard Strauss opera, "Der Rosenkavalier," Williams once again proves she's a historical fiction writer still with many, many stories to tell.
Williams is an "auto-buy" author for me. I don't even read the premise, I just assume that book will be mine.   This, by far, has to be my favorite, for Williams manages to combine two of my favorite genres, mystery and historical fiction, into one.
Going in, the reader knows they are going to be embarking upon a journey that will lead them to a scandal, the trial of the century. The source of that scandal, however, is quite unknown throughout the majority of the book.  What will keep the reader's attention are the characters, so eloquently developed, and the teaser "news" articles that allude to this horrific scandal.
By far, the two most captivating characters are Sophie and Theresa. Both are two incredibly headstrong individuals who refuse to be bound by the constructs society places on women.  Theresa has suffered loss in her life, her marriage is loveless, so why not pursue a relationship that makes her happy.  On the other hand, Sophie doesn't want to get married to a man she doesn't love, forced to live a loveless marriage. She has dreams of becoming an engineering, of flying a plane, of things women of her time just don't do.
That these women are connected by one young man who is the very symbol of freedom and independence, is quite ironic.
I read this book in one sitting, then weeks later I picked it up and read it again. This is one of those titles that seems so perfectly crafted, everything falls together so intentionally, that you want to assume that it all fell together in one piece, but you know it required a considerable amount of work on the author's part.
Beatriz Williams will continue to be one of my very favorite historical fiction writers. My only sadness is that I have to wait patiently for her next title!