I received this book for free from the publisher (egalley) in exchange for an honest review. This does not affect my opinion of the book or the content of my review.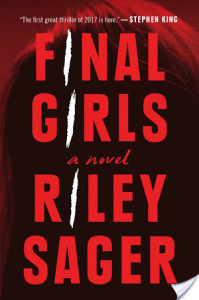 Final Girls by Riley Sager
Published by Penguin on July 11, 2017
Genres: Fiction, Psychological, Suspense, Thrillers
Pages: 352
Format: eARC
Source: the publisher (egalley)

Ten  years ago, Quincy Carpenter went on vacation to a small remote cabin with her friends. Following a brutal massacre, she was the only one who survived.  This granted her the moniker of one of the "Final Girls," the lone survivor in a horror movie.  Unfortunately, the horror was all too real.   Two other girls share this nickname as well: Lisa was the only survivor after a rampage at her sorority house; Sam survived the attack by a killer known as the Sack Man during her shift at the Nightlight Inn.  Though they share a similar history, the three girls have never met.

Unlike the other Final Girls, Quincy doesn't recall the events of that horrific night.  Now, she writes for a popular baking blog and lives with her boyfriend a gorgeous apartment.  Coop, the police officer who saved her life, is still an active part of her life.

When Lisa, the first Final Girl, is found dead in her bathtub, the past rears its ugly head.  The press is alive, reaching out to Quincy for comment.  Before she's able to accept this loss,  Sam, the second Final Girl, shows up on her doorstep.  Unlike Quincy, Sam can't bear to let the past lay dormant.  Quickly, her stable life begins to crumble, as she uncovers Sam's real motive she begins to recall memories of the horror that has haunted her for ten years.
Stephen King doesn't just blurb any ole book.  When I read his raving review of this title, it firmed up my decision to read it.  I devoured it; I couldn't bear to tear myself away.  It is truly reminiscent of a classic horror novel, full of twists and turns and the inability to know who to trust.
Though Riley's history (the lone survivor of a massacre at a remote cabin) may sound cliche,  it is certainly not.  Sager has crafted a world, a history, so complex and twisty that it had me surprised at the end. Incredibly well planned and plotted. this is a must read for any horror fan!
Side note: Riley Sager is a pseudonym used by one of my favorite thriller writers, Todd Ritter.   I completely understand his decision to do so; this is quite different than some of the other books he's written. The creation of this identity gives him freedom to do things differently; I thoroughly look forward to reading more books written under this name (and his given name, too, for that matter!)