I received this book for free from the publisher in exchange for an honest review. This does not affect my opinion of the book or the content of my review.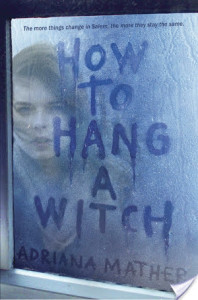 How to Hang a Witch by Adriana Mather
Published by Random House Children's Books on July 26th 2016
Genres: Emotions & Feelings, Horror, Paranormal, Occult & Supernatural, Social Themes, Young Adult Fiction
Pages: 368
Format: ARC
Source: the publisher

Samantha (Sam) Mather and her stepmother are recent transplants to Salem, Massachusetts. The expense of caring for her father in New York City was just too much and the move was inevitable.  While Sam is new to Salem, her family name is not.  One of her ancestors was, you guessed it, Cotton Mather, one of the men responsible for the Salem witch trials.  Within days of her arrival in Salem she already has a group of enemies.  They are referred to as The Descendants, their ancestors were the witches at the heart of the trials.

Now living in the Mather family home, Sam finds it is full of family secrets, history...and a ghost.  At first, their relationship is rocky.  Soon, she's forced to rely upon him when she finds out she is part of a deadly curse, one that demands she works with those that hate her most, The Descendants.  Without their help, there is no way to put an end to the deaths that continued long after the last witch was hanged.
This review copy has been sitting in my book pile since the spring. When I saw it sitting there, all lonely and unread, I quickly added it to my pile of books to review for Murder, Monster & Mayhem.  Then last week, as I was preparing for the read-a-thon I added it to that pile. It was meant to be. Truly.
I know I'm not alone in my obsession with the Salem Witch Trials. It started long before I read The Crucible (which, by the way, my teen is reading now!).  A town so rich in a deep dark history, I find it completely fascinating.  This novel, and this author (yes, an actual descendant of Cotton Mather), is the absolutely perfect read for fans of this time in our nation's history.   The author is paying homage to her family and the town's rich and vibrant history.  She also modernizes it, adding the topic of modern-day bullying to the mix.
The characters are rich, well defined and developed.  I think she captures the angst and emotions of teen life in an exceptional way, not at all cliche or exaggerated. I couldn't get enough of this book, I devoured it in a manner of hours.The best way to describe it is a combination of The Craft meets Mean Girls.  All in all, a highly engaging and engrossing read. Highly, highly recommended.