I received this book for free from personal copy in exchange for an honest review. This does not affect my opinion of the book or the content of my review.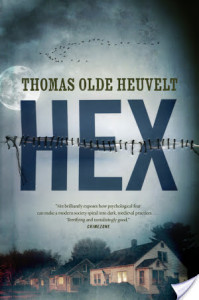 HEX by Thomas Olde Heuvelt
Published by Macmillan on April 26th, 2016
Genres: Dark Fantasy, Fantasy, Fiction, General, Horror, Thrillers
Pages: 448
Format: Hardcover
Source: personal copy

From the outside, Black Spring looks like your typical quaint Hudson Valley town. In reality, however, it holds a deep dark secret.  It's haunted by the Black Rock Witch, a woman from the 17th century accused of being a witch, her eyes and mouth sewn shut. She walks the streets of Black Spring without abandon, entering homes at her will.

The elders of Black Spring have developed an elaborate surveillance system to keep the town curse secret from outsiders. As long as the Black Rock Witch is undisturbed during her routine travels throughout town, the citizens are Black Spring are safe.

Or so they think.
I purchased this title upon release after much acclaim by readers whose opinions I trust and value. There's even a blurb from the king of horror himself on the cover!
All of the acclaim was so, so worth it. What a chilling and wholly unique premise!!  It reminded me a bit of Wayward Pines, in that the town has a deep dark secret it's trying to keep hidden.
What makes this even more terrifying is that the citizens of the town were forbidden to leave.  Doing so made them physically (or mentally) ill, the town claimed them as its own the moment they move in.  The elaborate technology the elders used to keep track of the witch was downright ingenious, as was the methods they used to hide her if she came out when visitors came to town.
This was truly a phenomenal read; I have no issues or qualms with it! I cannot wait to read what's next from this fresh new voice in horror fiction!