Well, it seems we were graced with just a few days of spring before the heat and humidity of summer made an appearance! With summer brings lazy days of reading, be it spent curled up on a beach or in your favorite chair out on the patio.
I'm going to warn you now that this list of most anticipated books of June is lengthy. So many outstanding books are releasing next month. I've broken it up into three posts to save your eyes (and your wallets!) for undue pain or stress! This first post covers those books released the first week of June
I've included a link to preorder the book (click on the title or the book image) as well as the publisher's summary.
The Director by David Ignatius (June 2): Graham Weber has been the director of the CIA for less than a week when a Swiss kid in a dirty T-shirt walks into the American consulate in Hamburg and says the agency has been hacked, and he has a list of agents' names to prove it. This is the moment a CIA director most dreads.
Weber turns to a charismatic (and unstable) young man named James Morris who runs the Internet Operations Center. He's the CIA's in-house geek. Weber launches Morris on a mole hunt unlike anything in spy fiction-one that takes the reader into the hacker underground of Europe and America and ends up in a landscape of paranoia and betrayal. Like the new world of cyber-espionage from which it's drawn, The Director is a maze of deception and double dealing, about a world where everything is written in zeroes and ones and nothing can be trusted. The CIA has belatedly discovered that this is not your father's Cold War, and Weber must play catch-up, against the clock and an unknown enemy, in a game he does not yet understand.
Summer House with Swimming Pool by Herman Koch (June 3):
When a medical mistake goes horribly wrong and Ralph Meier, a famous actor, winds up dead, Dr. Marc Schlosser is forced to conceal the error from his patients and family. After all, reputation is everything in this business. But the weight of carrying such a secret lies heavily on his mind, and he can't keep hiding from the truth…or the Board of Medical Examiners.
The problem is that the real truth is a bit worse than a simple slipup. Marc played a role in Ralph's death, and he's not exactly upset that the man is gone. Still haunted by his eldest daughter's rape during their stay at Ralph's extravagant Mediterranean summerhouse-one they shared with Ralph and his enticing wife, Judith, film director Stanley Forbes and his far younger girlfriend, Emmanuelle, and Judith's mother-Marc has had it on his mind that the perpetrator of the rape could be either Ralph or Stanley. Stanley's guilt seems obvious, bearing in mind his uncomfortable fixation on the prospect of Marc's daughter's fashion career, but Marc's reasons for wanting Ralph dead become increasingly compelling as events unravel. There is damning evidence against Marc, but he isn't alone in his loathing of the star-studded director.
A Barricade in Hell by Jaime Lee Moyer (June 3):
The powerful follow-up to Jaime Lee Moyer's Delia's Shadow
Delia Martin has been gifted (or some would say cursed) with the ability to peer across to the other side. Since childhood, her constant companions have been ghosts. She used her powers and the help of those ghosts to defeat a twisted serial killer terrorizing her beloved San Francisco. Now it's 1917—the threshold of a modern age—and Delia lives a peaceful life with Police Captain Gabe Ryan.
 That peace shatters when a strange young girl starts haunting their lives and threatens Gabe. Delia tries to discover what this ghost wants as she becomes entangled in the mystery surrounding a charismatic evangelist who preaches pacifism and an end to war.  But as young people begin to disappear, and audiences display a loyalty and fervor not attributable to simple persuasion, that message of peace reveals a hidden dark side.
 As Delia discovers the truth, she faces a choice—take a terrible risk to save her city, or chance losing everything?
The Farm by Tom Rob Smith (June 3):
If you refuse to believe me, I will no longer consider you my son.
Daniel believed that his parents were enjoying a peaceful retirement on a remote farm in Sweden. But with a single phone call, everything changes.
Your mother…she's not well, his father tells him. She's been imagining things – terrible, terrible things. She's had a psychotic breakdown, and been committed to a mental hospital.
Before Daniel can board a plane to Sweden, his mother calls: Everything that man has told you is a lie. I'm not mad… I need the police… Meet me at Heathrow.
Caught between his parents, and unsure of who to believe or trust, Daniel becomes his mother's unwilling judge and jury as she tells him an urgent tale of secrets, of lies, of a crime and a conspiracy that implicates his own father
Mr. Mercedes by Stephen King (June 3):
In a mega-stakes, high-suspense race against time, three of the most unlikely and winning heroes Stephen King has ever created try to stop a lone killer from blowing up thousands.
In the frigid pre-dawn hours, in a distressed Midwestern city, hundreds of desperate unemployed folks are lined up for a spot at a job fair. Without warning, a lone driver plows through the crowd in a stolen Mercedes, running over the innocent, backing up, and charging again. Eight people are killed; fifteen are wounded. The killer escapes.
In another part of town, months later, a retired cop named Bill Hodges is still haunted by the unsolved crime. When he gets a crazed letter from someone who self-identifies as the "perk" and threatens an even more diabolical attack, Hodges wakes up from his depressed and vacant retirement, hell-bent on preventing another tragedy.
Brady Hartfield lives with his alcoholic mother in the house where he was born. He loved the feel of death under the wheels of the Mercedes, and he wants that rush again. Only Bill Hodges, with a couple of highly unlikely allies, can apprehend the killer before he strikes again. And they have no time to lose, because Brady's next mission, if it succeeds, will kill or maim thousands.
Mr. Mercedes is a war between good and evil, from the master of suspense whose insight into the mind of this obsessed, insane killer is chilling and unforgettable.
Those Who Wish Me Dead by Michael Koryta (June 3):
When fourteen-year-old Jace Wilson witnesses a brutal murder, he's plunged into a new life, issued a false identity and hidden in a wilderness skills program for troubled teens. The plan is to get Jace off the grid while police find the two killers. The result is the start of a nightmare.
The killers, known as the Blackwell Brothers, are slaughtering anyone who gets in their way in a methodical quest to reach him. Now all that remains between them and the boy are Ethan and Allison Serbin, who run the wilderness survival program; Hannah Faber, who occupies a lonely fire lookout tower; and endless miles of desolate Montana mountains.
The clock is ticking, the mountains are burning, and those who wish Jace Wilson dead are no longer far behind.
The Book of Unknown Americans by Cristina Henríquez (June 3):
A boy and a girl who fall in love. Two families whose hopes collide with destiny. An extraordinary novel that offers a resonant new definition of what it means to be American.
Arturo and Alma Rivera have lived their whole lives in Mexico. One day, their beautiful fifteen-year-old daughter, Maribel, sustains a terrible injury, one that casts doubt on whether she'll ever be the same. And so, leaving all they have behind, the Riveras come to America with a single dream: that in this country of great opportunity and resources, Maribel can get better.
When Mayor Toro, whose family is from Panama, sees Maribel in a Dollar Tree store, it is love at first sight. It's also the beginning of a friendship between the Rivera and Toro families, whose web of guilt and love and responsibility is at this novel's core.
Woven into their stories are the testimonials of men and women who have come to the United States from all over Latin America. Their journeys and their voices will inspire you, surprise you, and break your heart.
Suspenseful, wry and immediate, rich in spirit and humanity, The Book of Unknown Americans is a work of rare force and originality.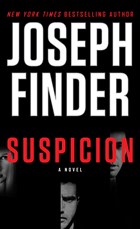 Suspicion by Joseph Finder (June 4): When single father Danny Goodman suddenly finds himself unable to afford the private school his teenage daughter adores, he has no one to turn to for financial support. In what seems like a stroke of brilliant luck, Danny meets Thomas Galvin, the father of his daughter's new best friend, who also happens to be one of the wealthiest men in Boston. Galvin is aware of Danny's situation and out of the blue offers a $50,000 loan to help Danny cover his daughter's tuition. Uncomfortable but desperate, Danny takes the money, promising to pay Galvin back. What transpires is something Danny never imagined.
The moment the money is wired into his account, the DEA comes knocking on his door. Danny's impossible choice: an indictment for accepting drug money that he can't afford to fight in court, or an unthinkably treacherous undercover assignment helping the government get close to his new best friend. As Danny begins to lie to everyone in his life, including those he loves most in the world, he must decide once and for all who the real enemy is or risk losing everything—and everyone—that matters to him.
Stay tuned this weekend for more of my most anticipated books of June!