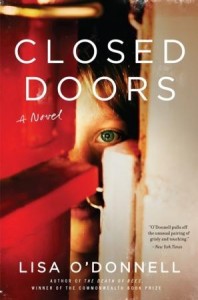 Hardcover: 256 pages
Publisher: Harper (May 20, 2014)
ISBN-10: 006227189X
Source: Publisher
Eleven-year-old Michael Murray lives on a small Scottish island, a community so small that there are no secrets. His mother and grandmother are often found sitting at the kitchen table, gossiping about one person or another. Believing Michael too young to listen in, they banish him from the kitchen. Little do they know, he can often be found on the other side of the kitchen door, listening in.
When something devastating happens to his family, they attempt to protect him from knowing the truth.  Yet it isn't after too many opportunities spent eavesdropping that Michael is able to uncover what really transpired. Questioning why his family has remained silent, even after others are affected, Michael is desperate to uncover the root of the event that has forever transformed his family.
Told by Michael's point of view, readers experience this harrowing situation through his innocent, yet perceptive, eyes. That's what makes this novel stand out, for it so honestly captures Michael's interpretation of the actions that transpire to alter his family.  Intermixed with the main storyline are subplots involving Michael's trials and tribulations as a prepubescent young man, including discovering and understanding the changes in his own body.
While the premise may lead you to believe this is a thriller, while it has some of the characteristics it is more of a coming of age, for we watch as Michael loses a bit of his own innocence in discovering the truth. At the beginning, he is quite naive but is slowly developed into an aware and cognizant young man. The pacing is slow, yet not drawn out, allowing readers to form a genuine connection with Michael and his family.
While it did take some time for me to become invested in Michael and his family, I ultimately found this book to be wholly rewarding and heartwarming. At its very core, it is an exploration of the value of love and family, despite of (and due to) harrowing and devastating situations. Recommended.
Thank you to TLC Book Tours for providing me the opportunity to review this title. Please be sure to check out the other stops along the way!
Lisa O'Donnell won the Orange Screenwriting Prize in 2000 for her screenplay The Wedding Gift. Her debut novel, The Death of Bees, was the winner of the 2013 Commonwealth Book Prize. She lives in Scotland.
Visit Lisa at her website, connect with her on Facebook, and follow her on Twitter.