Memorial Day weekend is upon us! Since I'll be traveling next week for BEA (Book Expo America) I hope to spend the weekend relaxing, curled up with a few great books. Some of these books I'm mentioning in these June book previews are certain to be included in my pile of books.
Yesterday, I shared the first part of this list. I warned you, this month's list is a big one! If I didn't do enough damage to your wallet yesterday, following are some more titles I'm looking forward to reading!
Two Soldiers by Anders Roslund, Borge Hellstrom (June 10):
In a bleak Stockholm suburb where juvenile gang crime is rapidly on the rise, two 19-year-old boys, best friends since third grade and drug addicts since age 9, have spent their young lives establishing a ruthless criminal enterprise-known as the Råby Warriors. With the recruitment of children as foot soldiers, the Warriors are now poised to become the most powerful syndicate in the region.
Twenty years on the force, José Pereira now heads the Organized Crime and Gang Section in Råby. If it was not so deadly, Pereira might appreciate the absurdity of watching boys like Leon and Gabriel, raised on Hollywood images, morph themselves into characterizations of gangsters.
After Leon and Gabriel execute a maximum-security prison break, in which a female guard is kidnapped and feared murdered, Pereira is joined in his investigation by Chief Superintendent Ewert Grens, whom Roslund and Hellström readers will recognize as the maverick detective who never gives up. For Grens, this case awakens troubled ghosts from his past. Soon all four men are on a violent collision course that will irrevocably change all their lives.

Elizabeth Is Missing by Emma Healey (June 10):
Maud, an aging grandmother, is slowly losing her memory—and her grip on everyday life. Yet she refuses to forget her best friend Elizabeth, whom she is convinced is missing and in terrible danger.
But no one will listen to Maud—not her frustrated daughter, Helen, not her caretakers, not the police, and especially not Elizabeth's mercurial son, Peter. Armed with handwritten notes she leaves for herself and an overwhelming feeling that Elizabeth needs her help, Maud resolves to discover the truth and save her beloved friend.
This singular obsession forms a cornerstone of Maud's rapidly dissolving present. But the clues she discovers seem only to lead her deeper into her past, to another unsolved disappearance: her sister, Sukey, who vanished shortly after World War II.
As vivid memories of a tragedy that occurred more fifty years ago come flooding back, Maud discovers new momentum in her search for her friend. Could the mystery of Sukey's disappearance hold the key to finding Elizabeth? 
Robogenesis by Daniel H. Wilson (June 10):
The stunningly creative, epic sequel to Wilson's blockbuster thriller and New York Times bestseller Robopocalypse.
"The machine is still out there. Still alive."
Humankind had triumphed over the machines. At the end of Robopocalypse, the modern world was largely devastated, humankind was pressed to the point of annihilation, and the earth was left in tatters…but the master artificial intelligence presence known as Archos had been killed.
In Robogenesis, we see that Archos has survived. Spread across the far reaches of the world, the machine code has fragmented into millions of pieces, hiding and regrouping. In a series of riveting narratives, Robogenesis explores the fates of characters new and old, robotic and human, as they fight to build a new world in the wake of a devastating war. Readers will bear witness as survivors find one another, form into groups, and react to a drastically different (and deadly) technological landscape. All the while, the remnants of Archos's shattered intelligence are seeping deeper into new breeds of machines, mounting a war that will not allow for humans to win again.
Daniel H. Wilson makes a triumphant return to the apocalyptic world he created, for an action-filled, raucous, very smart thrill ride about humanity and technology pushed to the tipping point.

All Day and a Night by Alafair Burke (June 10):
The latest story dominating the tabloids – the murder of  psychotherapist Helen Brunswick—couldn't be further from Carrie Blank's world handling federal appeals at an elite Manhattan law firm.  But then a hard-charging celebrity trial lawyer calls Carrie with an offer she can't refuse: Anthony Amaro, the serial killer police blamed for the murder of Carrie's older sister, Donna, has new evidence related to Brunswick's murder that he believes can exonerate him. Determined to force the government to catch Donna's real killer, Carrie takes on Amaro's wrongful conviction claim. 
On the other side of Amaro's case is NYPD Detective Ellie Hatcher, who, along with her partner, JJ Rogan, is tapped as the "fresh look" team to reassess the investigation that led to Amaro's conviction.  The case is personal for them, too: Ellie wonders whether they got the assignment because of her relationship with the lead prosecutor, and Rogan has his own reasons to distrust Amaro's defense team. 
As the NYPD and Amaro's lawyers search for certainty among years of conflicting evidence, their investigations take them back to Carrie's hometown and secrets left behind there. And when Carrie falls victim to a brutal attack, it becomes clear that the young attorney got too close to the truth.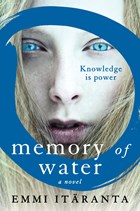 Memory of Water by Emmi Itäranta (June 10):
Global warming has changed the world's geography and its politics. Wars are waged over water, and China rules Europe, including the Scandinavian Union, which is occupied by the power state of New Qian. In this far north place, seventeen-year-old Noria Kaitio is learning to become a tea master like her father, a position that holds great responsibility and great secrets. Tea masters alone know the location of hidden water sources, including the natural spring that Noria's father tends, which once provided water for her whole village.
But secrets do not stay hidden forever, and after her father's death the army starts watching their town—and Noria.  And as water becomes even scarcer, Noria must choose between safety and striking out, between knowledge and kinship.
Imaginative and engaging, lyrical and poignant, Memory of Water is an indelible novel that portrays a future that is all too possible.

The Girl with All the Gifts by M.R. Carey (June 10):
Every morning, Melanie waits in her cell to be collected for class.
When they come for her, Sergeant keeps his gun pointing at her while two of his people strap her into the wheelchair. She thinks they don't like her. She jokes that she won't bite, but they don't laugh.
Never Look Back by Clare Donoghue (June 10):
Three young women have been found brutally murdered in south London, their bodies discarded in plain view, the victims only yards away from help during each attack. And the murderer is getting bolder.
Detective Inspector Mike Lockyer is the head of homicide on the South London police force, and with three bodies on his watch and a killer growing in confidence, he and DS Jane Bennett are frantically trying to find a link between these seemingly isolated incidents. Slowly, the case is also invading Lockyer's life outside the office, and the fact that his daughter matches the victim profile is putting a painful strain on their already fragile relationship.
Meanwhile, Sarah Grainger is too afraid to leave her house. Once an outgoing London photographer, she started locking herself away once she became aware of a shadowy stalker following her every move. Now his actions are escalating. He's desperate to tell Sarah a secret…a secret that Lockyer needs to know.
Stay tuned tomorrow for the last part of my most anticipated books of June!