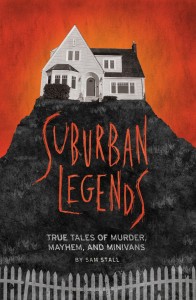 Print Length: 240 pages
Publisher: Quirk Books (October 1, 2013)
Source: Publisher (via Edelweiss)
In this collection of horrifying true stories, Stall proves that living in the suburbs isn't as quiet or calm as one would tend to believe.   In stories ranging from hauntings to brutal killings and supernatural creatures, Stall terrifies readers with tales destined to be retold around a campfire or at a slumber party.  Stall focuses on well-known stories of murderous individuals we've all hear about on the news, but also focuses on local, lesser-known stories. Included, when applicable, are chilling photographic evidence of the haunting, or, even more terrifying, of the killer.  For those more sensitive, Stall does share stories that are more humorous than terrifying, a perfect combination of hilarity and horror.
This collection of 60 stories is broken down into the following categories:
Inhumanly Bad Houseguests (hauntings, poltergeists, paranormal activity)
The Ghoul Next Door (Do you know what your creepy neighbor does behind closed doors!?)
Hellish Commutes (haunted roadways, hotels, etc)
Backyard Beasts (unnaturally odd creatures)
Really Desperate Housewives (murderous wives/mothers)
Lawn of the Dead (Horrifying things found buried in backyards or uncovered during construction)
Sundry Cul-de-sacriliges (Miscellaneous hauntings, paranormal activity)
Each story only has a page or two devoted to it, so if you are anything like me, you'll find yourself wanting to know more. I caught myself hitting Google to find out more, especially when I discovered that one of the stories was based just a few miles down the road (gulp!)
Recently re-released in ebook format, Suburban Legends: True Tales of Murder, Mayhem, and Minivans is a must needed addition to your Halloween reading collection! Highly, highly recommended.