Frightful Friday is a weekly meme in which I feature a particularly scary or chilling book that I've read that week.
This week's featured title is The Resurrectionist: The Lost Work of Dr. Spencer Black by E. B. Hudspeth:
Hardcover: 192 pages
Publisher: Quirk Books (May 21, 2013)
ISBN-10: 1594746168
Source: Publisher
Dr. Spencer Black became relatively comfortable working with cadavers at a young age.  His father, Gregory Black, was a respectful professor of anatomy at the Medical Arts College of Boston in the late 1800s. He performed dissections in a time when medical cadavers were scarce and often had to resort to grave-robbing with the help of his two young sons. So, when he passed away, it was no shock when Spencer followed in his father's footsteps and went into the medical field.
Spencer had a long fascination and appreciation of death:
When one dies they neither ascend into the heavens nor descend into hell, they instead become cured–freed from an illness and healed from the suffering of mortality.
During his studies, Black became intrigued with mutations of the body, in particular physical abnormalities.  It was difficult for Black to study living people with these conditions as they tended to die relatively early in life or kept themselves secluded from the public.
Like many other doctors, Black would sketch his findings. Unlike other doctors, however, was the extensive detail found in Black's drawings. Metamorphosis  fascinated Black so he became quite interested in studying insects, in particular the cicada:
They are born once again from the womb of their own body, which is abandoned as an empty shell, and then they live the world…After such a long time in darkness, we can only live for a short while.
Still, Black's interest in birth defects continued. He began a special surgical program at the Academy of Medicine focusing on the research of operable birth defects.  It was his hope that this research could potentially prevent defects in future births. He was granted a separate operating room and laboratory, referred to as Ward C. He had the newest technology making it one of the most advanced research spaces in the world.  His work in Ward C gained Black world-wide attention.
Unfortunately, the success of Ward C was short lived.  An operation on a young girl with a parasitic twin ended with her death, Black never really getting over the grief and guilt. This led him to stray away from his typical studies and instead move on to theories of evolution and natural selection. This way of thinking was completely different than that of others in his field.
His career and life would be forever altered after Black visited a local carnival. There, he witnessed several examples of human defects.  He was drawn to a fawn child, a deceased boy whose knees bent the wrong way and hair covered the entire surface of his skin. He resembled a fawn.  Black was certain that this specimen was integral to his research and so he purchased it for a small fortune. This specimen was the first of many secret dissections he would perform in his attic.
Black began to publish his findings.  Soon after, all of his funding was terminated. He was no longer focusing on studies that would enhance the medical community; instead he focused on his own obsessions. This obsession only grew over time; eventually he began to create his own unnatural creations, creatures that he believed were the ancestors of humankind.
Black's obsessions destroyed his family and marriage; his wife was severally injured after she attempted to set his "lab" on fire. Still, he continued. He hoped to publish his manifesto, The Codex Extinct Animalia. only six copies were completed before Black withdrew the project and disappeared.
The Resurrectionist: The Lost Work of Dr. Spencer Black details an elaborate fictional history of Black's work; just a small sampling is summarized above. The second half of this volume shows the illustrations of these elaborate mythical beasts Dr. Black believed existed, as ancestors of modern humans.  The illustrations are elaborate and intricately detailed: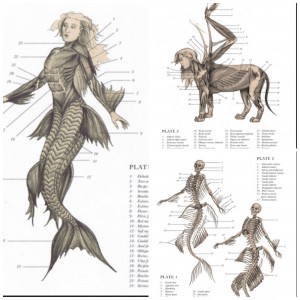 This volume is an incredibly unique mash-up of the beauty of anatomical form with the dark and sinister. A truly beautiful piece of art, this book would be a unique addition to grace the library, or even coffee table, of medical students or those interested in mythical creatures.