Frightful Friday is a weekly meme in which I feature a particularly scary or chilling book that I've read that week.
This week's featured title is Horrorstor by Grady Hendrix:

Paperback: 240 pages
Publisher: Quirk Books (September 23, 2014)
ISBN13: 9781594745263
Source: Publisher
Something menacing is happening at Orsk, a warehouse furniture superstore outside of Cleveland, OH. When the employees arrive in the morning, displays are in a state of disarray. The security cameras reveal nothing. While Orsk is frequented by quite a few shoppers, sales are down.  They must get to the bottom of the mysterious activity before the corporate big-wigs arrive tomorrow morning.
So Basil, one of Orsk's most dedicated employees, convinces two additional team members to join him in an overnight stakeout. Ruth Anne is a passionate, committed team member. Amy is…not.  It isn't far into their mission before strange things begin to happen. A number of uninvited visitors make an appearance. Basil, Ruth Anne, and Amy soon realize what they thought would be a relatively uneventful evening has quickly transformed into a battle for their lives.  What walks the confusing and meandering floors of Orsk after hours isn't human…at least not anymore.
The moment I read the premise of this novel, I knew I had to have it! A haunted house story, set in an IKEA-like setting? Simply brilliant.  The ingenious format added to the experience.  Laid out like an IKEA catalog, complete with illustrations of unpronounceable yet easy to assemble furniture, Horrorstor is a novel like no other! As the novel progressed into a darker, more sinister tone, so did the illustrated furniture. From mass-produced bookshelves to terrifying torture devices, Orsk has every furniture type imaginable.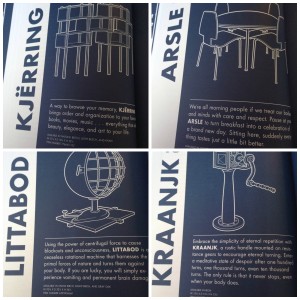 While the character development is minimal, Hendrix makes up for this with a truly chilling, albeit sometimes corny, plot line. That's to be expected, of course, given that this is a spoof of the grand and simultaneously terrifying, IKEA.
The history of the land that holds this terrifying structure is just as terrifying, adding to the dark and brooding tone.  While the light formatting seems as though it would detract from the overall feel and mood of the book it actually does the complete opposite. As readers turn each page, they have no inkling of what comes next.
Bottom line: Horrorstor is a must read this Halloween season. It's just spooky enough to send a chill down your spine, yet not too terrifying for the weak of heart.  Highly, highly recommended.