Tuesday I will be heading to New York City for Book Expo America, the biggest publishing conference/exposition in North America.
Wednesday, I will be participating in BEA Bloggers Conference. Specifically, I will be on a panel discussing how blogging, a typically online behavior and experience, has spread offline, offering me numerous opportunities and experiences. These include my relationship with my local independent bookstore, #IndieThursday, and much more.
If you are going to be at BEA and see me aimlessly walking up and down the aisles, don't be afraid to say hello! Also, if you do want to meet up, I will be checking email messages periodically. Feel free to shoot me an email (jennsbookshelf@gmail.com).
I created a Pinterest board for all the books I'm most excited about that are supposed to be available at BEA this year.  I won't go as far as fist fights or biting to get my hands on these, but if the opportunity presents me with these books, I'll be happy!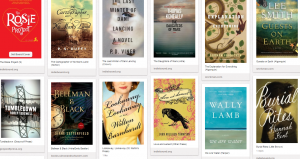 Since I will be in NY through Friday, I opted not to run any new content on the blog this week. Instead, I  would like to focus favorite posts from the last year. These post will hopefully give new readers an idea of the types of books I generally review, as well as tide over existing readers until I  return rested and invigorated next week!  Enjoy!