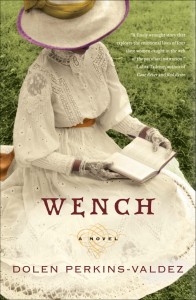 Situated in the free state of Ohio, Tawawa House offers respite from the summer heat. A beautiful, inviting house surrounded by a dozen private cottages, the resort is favored by wealthy Southern white men who vacation there, accompanied by their enslaved mistresses.
Regular visitors Lizzie, Reenie, and Sweet have forged an enduring friendship. They look forward to their annual reunion and the opportunity it affords them to talk over the changes in their lives and their respective plantations. The subject of freedom is never spoken aloud until the red-maned, spirited Mawu arrives and voices her determination to escape. To run is to leave behind the friends and families trapped at home. For some, it also means tearing the strong emotional and psychological ties that bind them to their masters.
My thoughts so far:
I'm halfway through my reading of Wench
and I can't help but state how drawn I am to the characters already.  Each of the women have a compelling story and a specific reason for not opting to run when the opportunity presents itself.  The storyline itself is heart-wrenching and powerful.  Never before have I read fiction about slavery that haunts me so.  When I'm not reading the book, I can't get my mind off of the characters and their brutal histories. When I am able to devote some time to reading it, I instantly become absorbed in each of the women's lives. I guarantee this novel is going to garner a lot of well-deserved attention and praise.  Please come back on January 25th for my full review of this novel.

About Dolen Perkins-Valdez
Dolen Perkins-Valdez's fiction and essays The Kenyon Review, African American Review, PMS:  PoemMemoirStory, North Carolina Literary Review, Richard Wright Newsletter, and SLI:  Studies in Literary Imagination.  She is a 2009 finalist for the Robert Olen Butler Fiction Award.  A graduate of Harvard and a former University of California President's Postdoctoral Fellow, Dolen splits her time between Seattle and Washington, DC.  She is a faculty member of the University of Puget Sound where she teaches Creative Writing.  Wench is her first book of fiction.  You can visit Dolen Perkins-Valdez's website at www.dolenperkinsvaldez.com, her blog at www.dolen.blogspot.com or connect with her on Twitter at www.twitter.com/dolen.