Yet another wonderfully relaxing summer week.  Teen son was off at Scout camp so we were down to just one child this week. We go through this every summer, yet somehow I forget how demanding of time our youngest is when his older brother is away. We spent the evenings reading and watching movies so it was actually a really fun experience. It's interesting to see how his personality changes when his older brother is not around!
Yesterday, we spend most of the day working on redoing/clearing out our home office.  We had file cabinets that were not being used that were blocking a huge bay window. Much to my husband's dismay, I pulled those out and made myself a new reading area.  I'm sitting there now, drinking a coffee, the morning sunlight streaming in. It is quite enjoyable.
The most exciting part of all this was the shelf that my youngest son & I repainted. Shelf space is a premium in our house.  I wanted something small, with purpose, that I could use to hold my review copies.   When I found a rotating (yes, it spins!) bookshelf for $20 at yard sale, I knew it had to be mine: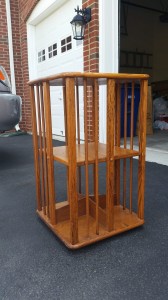 So, it's not the prettiest thing I've seen but it fit the purpose.  So I sanded it down, painted it in my favorite color, and voila, a beautiful shelf:
Needless to say, this is where I'll be spending a lot of time, curled up in my reading chair (if I can get the cat to move) with a book!  Most importantly, the new reading space opened up some space the boys have taken over as their own reading nook. They lined up pillows on the floor and have created a really comfortable place for them to read or work on homework.
Here on the blog, I had a pretty excellent few weeks as well. Here's a quick recap:
Now, if you don't mind, I'm going to lose myself in a book once more…have a wonderfully bookish week!