Total books reviewed: 7
Crazy busy month for me means less reading and reviewing.  That makes my pick of the month relatively easy: Conversion by Katherine Howe.
Special Events
Fall Book Preview: September, 2014, Part I
Fall Book Preview: September, 2014, Part II 
Fall Book Preview: September, 2014, Part III
Guest Post Stacey Graham, Author of Haunted Stuff: Demonic Dolls, Screaming Skulls & Other Creepy Collectibles
Booktopia Asheville #BooktopiaAVL
Upcoming Events!
Now that September is hear, October is right around the corner. October brings my month-long-celebration of all things horror and thriller: Murder, Monsters & Mayhem (Mx3). I have a fun & creative contest planned.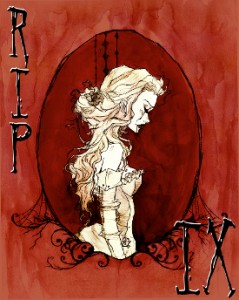 Along the same lines of Mx3 is Carl's R.eaders I.mbibing P.eril XI! I look forward to participating in this each year! It runs Sept. 1-Oct. 31 each year and it's the perfect way for me to prepare for my own Halloween feature! Not familiar? Here's the gist:
Mystery.
Suspense.
Thriller.
Dark Fantasy.
Gothic.
Horror.
Supernatural.
Or anything sufficiently moody that shares a kinship with the above.
I'll be participating in the Peril the First:
Read four books, any length, that you feel fit (the very broad definitions) of R.I.P. literature. It could be King or Conan Doyle, Penny or Poe, Chandler or Collins, Lovecraft or Leroux…or anyone in between.
As well as:
Peril on the Screen:
This is for those of us that like to watch suitably scary, eerie, mysterious gothic fare during this time of year. It may be something on the small screen or large. It might be a television show, likeDark Shadows or Midsomer Murders, or your favorite film.
I can't wait!
How about you? What was your favorite book of the month? Have anything spooktacular planned for Halloween?