Paperback: 320 pages
Publisher: Smart Pop (October 28, 2014)
ISBN: 9781940363363
Source: Publisher
The zombie apocalypse is here. There's more to survival than escaping the deadly grasp of the walking dead. Your survival will be quite limited if you don't have a means of sustaining your food supply. Here's where The Art of Eating Through the Zombie Apocalypse: A Cookbook and Culinary Survival Guide comes in handy.  Chock full of survival tips, including how to pack a survival kit and filter your water, as well as recipes and suggestions on maintaining your food supply.
My boys & I opted to try the recipe for Overnight of the Living Dead French Toast. Despite the gritty and gory illustration, we actually enjoyed this meal!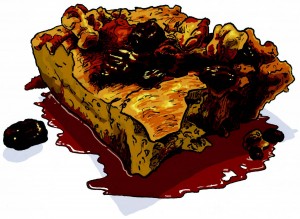 The prep is quite simple. What I really liked about it was this meal can be prepared either out of doors (if the zombies have raided your home) or in the comfort and safety of your own home (if you are one of the rare few who can seek shelter in your home).
Bugging In or Nouveau Home Cuisine
The recipes here are quick, simple, calorie rich, and, perhaps most importantly, comforting. Yes, that's right, they're the zpoc equivalent of the post-financial-crisis comfort food trend. So get ready for warm, indulgent, and satisfying meals that can be fixed in a jiffy and/or need minimal attendance. These recipes are geared to the first days of the outbreak—when the power is either still running or has just gone out—and so, will focus on perishable ingredients that most people would have on hand in their refrigerators and freezers
Overnight of the Living Dead French Toast
Yields: 4 Hungry Survivor servings, 6 Regular Joe servings
Welcome to the zombie apocalypse! Tomorrow is a big day: you will be losing your head (hopefully not literally) trying to fend off the newly infected. On top of that, those pesky little weak spots in your fortress will surely present themselves, leaving you overwhelmed with survival and physical defense–focused activities.
Before you go to sleep tonight (if it even seems safe to do so), why not plan ahead for breakfast? Not only will it help use up some of your perishables (milk, eggs, butter, bread), it will also give you a calorie-rich jumpstart to your undead-filled day.
If the power has already gone out, reduce the amount of time you soak the bread to a couple of hours and use an Oven Hack (page 6) to cook this bad boy.
Requires:
Chef's or survival knife and cutting board
1 bread knife
1 small mixing bowl
1 mixing spoon
1 fireproof baking dish (preferably 7″ x 11″)
1 large bowl
1 whisk (or fork)
Piece of foil, to cover baking dish
Heat Source:
Indirect, conventional oven or other Oven Hack (page 6)
Time:
10 minutes prep
4-8 hours inactive soaking time
35 minutes unattended cooking time
Ingredients:
¼ c. (4 tbsp.) butter, melted
½ c. brown sugar
12 oz. bread (challah, raisin, French baguette, Wonder—whatever you got, preferably a mix of several different kinds), sliced into strips 2–3 fingers wide
½ c. dried cranberries or raisins
6 eggs
2 tbsp. granulated sugar
1 ½ c. milk, cream, or combination
1 tbsp. vanilla extract
1 tsp. ground cinnamon
½ tsp. ground nutmeg
½ tsp. ground ginger
Pinch of salt
3 tbsp. rum, orange liqueur, or brandy (optional)
1 c. nuts (walnuts, pecans, or almonds), roughly chopped and preferably toasted
Maple syrup, to taste
Method:
Mix together the melted butter and brown sugar in a small mixing bowl. Spread the mixture along the bottom of the baking dish.
Put down a layer of bread fingers, overlapping and filling gaps where needed. Sprinkle with dried fruit. Repeat with remaining bread and fruit.
In a large mixing bowl, whisk eggs and granulated sugar together until the sugar has dissolved, about 1 minute. Add the milk/cream, vanilla, cinnamon, nutmeg, ginger, pinch of salt, and liquor/liqueur (if using). Whisk until incorporated.
Pour the custard over the bread and dried fruit, sweeping back and forth to moisten the whole top layer, filling any nooks and crannies. Cover with foil and let sit for 2 hours (no refrigeration) or at least 4 hours to overnight (in the fridge).
Preheat oven (for perhaps the last time!) to 375°F or set up an Oven Hack (see Judging Temperature, page 7).
Remove foil from the baking dish and sprinkle with the toasted nuts (if using). Drizzle lightly with maple syrup.
Bake uncovered for 30 minutes, then cover and bake for another 15 minutes to avoid overbrowning. Check after 20 minutes or so—cooking time will vary widely depending on your setup.
The French toast is ready when the custard at the center feels set (i.e., not jiggly, squishy, or raw). Let stand for 5–10 minutes, then drizzle liberally with more maple syrup before tucking in.
Since I had the pleasure of assistance from my two boys, the final product doesn't look all that pretty (they were all about literally creating french toast "fingers") but the taste was divine!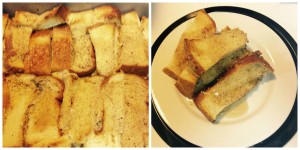 Bottom line: whether or not you are trying to survive the zombie apocalypse or not, The Art of Eating Through the Zombie Apocalypse: A Cookbook and Culinary Survival Guide is a handy guide to general, every day survival.  It's a perfect holiday gift for the outdoorsy type (my two Scouts loved it!)
Highly recommended. We can't wait to try out another recipe!