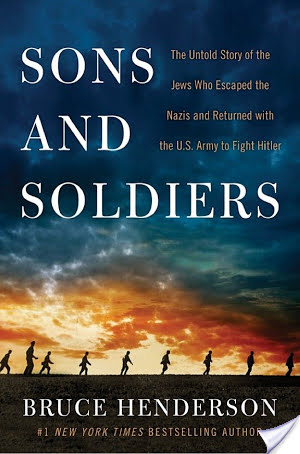 Sons and Soldiers by Bruce Henderson
Published by HarperCollins on July 25, 2017
Genres: History, Jewish, Military, Special Forces, World War II
Pages: 448
Format: ARC

The United States was a place of refuge for Jews seeking freedom when Hitler reigned over Nazi Germany.   Their lives were shattered; many came across alone (often as children or young teens), leaving their family behind, their futures unknown.  Many of these individuals were boys, who matured into  young men, who in turn risked their lives to return to their homeland in order aid Allies in the fight against Hitler.

This is the story of nearly 2,000 German-born Jews who were taught special interrogation skills, making use of their knowledge of the German language and customs, and made part of elite teams that interrogated German POWs in an effort to gain knowledge required to win the war.

Known as the Ritchie Boys, they were responsible for a large portion of the intelligence that came out of Europe during the war.  Their individual stories, the terror and loss they faced leading up to the war, was untold until now.  Henderson painstakingly interviewed ten of the Ritchie boys in this remarkable true-story of courage, heroism, and patriotism.
I originally accepted this pitch for review thinking my teen (a huge WWII buff), would enjoy reading this.  Never could I have imagined how much this book moved me, reading the stories of these young men who gave so much.
It's not only that they risked their lives to fight in this war, it's that, despite the negative treatment they received as German immigrants, the prejudice they faced due to their accent or ethnicity, they opted to join the United States military and risk their lives alongside many of those who taunted them.  Their stories were harrowing and horrific, surviving one nightmare only to willingly volunteer to endure another.
There is an enormous amount of substance to this book.  The reader gets a thoroughly in-depth background of each of the Ritchie boys interviewed, starting way back to childhood, long before these acts of war. My only complaint was perhaps the formatting of the book itself.  Just as I would become immersed in one story, it would leap to another. With the number of individuals focused on, it became challenging to keep track of who was who, and when and were they were in the story.  My preference would have been chapters dedicated to each individual, with clear cut beginnings and endings to their stories.
Don't let this sway you from reading, for this is a part of our nation's history we should all know about by now.  It's shocking that no one has picked up on this story until now.  These men deserve the attention and accolade that has gone silent all these years.  Highly, highly recommended.
Thank you to TLC Book Tours for providing me the opportunity to take part in this tour!