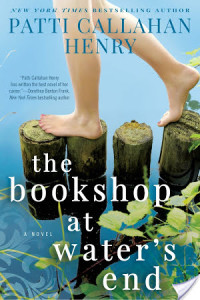 The Bookshop at Water's End by Patti Callahan Henry
Published by Penguin on 2017
Genres: Contemporary Women, Family Life, Fiction, Small Town & Rural
Pages: 352

Growing up, summers spent in Watersend, South Carolina, were a source of relaxation and reprieve for Bonny Blankenship.  She looked forward each summer to reuniting with her best friend,  Lainey McKay.  Known as the Summer Sisters, their time was largely spent swimming, curling up with a book in the town bookstore, and making wishes for a "happily ever after" future. All that idyllic beauty was tarnished the night Lainey's monther disappeared.

Now, four decades later, her life is in shambles. Her marriage is in shambles, and a tragic event threatens her career as an emergency room doctor.  Thought wrought with painful memories, she returns to the river house, intent on fixing it up for resale, with her daughter Piper, also struggling as a result of choices made in her life.  Reluctantly, Lainey soon joins her, her own two young children in tow.

Their reunion is bittersweet, for with it brings memories of a painful past.  Lainey  has obsessed over locating her mother; returning to the place she disappeared was the last thing on her mind.  Yet as the past begins to replay itself, the Summer Sisters become aware that their return to Watersend was bound by fate.  The past must be addressed in order to move on and embrace their future.


If you are looking for the perfect summer read, this is the title for you.  I hesitate to call it a beach read, for that description typically is used for a light, fluffy read.  Yet, I personally yearn for titles with deeper themes for my summer reads.
Bonny and Lainey met one summer when they were young teens; their friendship grew and was nurtured through the years.  Their bond of friendship continued to withstand the test of time and distance; as soon as Lainey was able she moved to California, as far away as one can get from South Carolina.  As young girls, they both wished for an adult life filled with happiness; four decades later they've both realized they have failed to reach that goal.
The author uses alternating time periods, fluctuating between those idyllic summers and the present day, to tell the story of the Summer Sisters. Though Lainey's life was the one most affected by her mother's disappearance, the author chooses to focus on Bonny's life more, with her crumbling marriage and the fate of her career nearing destruction. It is her point of view, and that of her daughter, Piper, that is focused on the most.  This is the source of one of my issues; I wanted to feel more for Lainey but couldn't connect with her like I did with Piper and Bonny.
Bonny's husband, too, was another nearly flat character.  I know their marriage was in shambles, yet I feel her husband's character (I can't even recall his name!) was weak; their relationship was almost "cliche," not really believable in any sense of the word. I despised his character, not only because he was cruel and uncaring, but because it balanced on the edge of filler material.
Additionally, the resolution of the novel seemed rushed.  There was so much build-up that the ending felt…meh.  I honestly would have loved to have the opportunity to witness Lainey's mother's perspective as well.  The pacing of the novel was spot-on, everything falling into place seamlessly yet I felt there could have been more effort in the ending.
Luckily, everything leading up to the climax was engaging; I felt Bonny's resolution was well played out, as well as that of her daughters.  It is Lainey, the one I felt needed the most, that was left hanging.
All this said, I would still recommend this as a "curl up on the beach and devour" summer read.  It has a perfect balance of substance and intrigue.