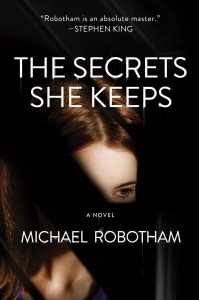 The Secrets She Keeps by Michael Robotham
Published by Scribner on July 11th 2017
Genres: Contemporary Women, Fiction, General, Suspense, Thrillers
Pages: 384

Agatha works part-time stocking shelves at a grocery store. Pregnant, the increasing level of discomfort has her looking forward to her delivery. The one thing she looks forward to during each shift is her glimpses of Meghan, the mother of two perfect children, a perfect marriage, a perfect and popular parenting blog.

Meghan, too, is pregnant. In fact, their due dates are within days of one another. When Agatha works up the courage to talk to Meghan, it begins a series of events to change the course of life for both women...forever.
Now this is the title to get one out of a reading funk!!
Due to the sheer volume of revelations this book contains, I must limit just how much information I share. These two women are from vastly different backgrounds. Agatha is alone, desperate for the father of her baby to return her calls. She believes Meghan to have the perfect life, but little does she know, perfect Meghan has some secrets of her own.
The title is so fitting, but it's not one but both of these women who have secrets they are keeping. Robotham expertly reveals each secret slowly, carefully, obviously well-planned and intentional in the timing. I devoured this book. It left by heart-pounding, with anger, anticipation…and much more. I went through a full gamut of emotions reading this one!
This is on you are going to want to add to the top of your must-read list. I guarantee it! Highly, highly recommended.