I received this book for free from the publisher (egalley) in exchange for an honest review. This does not affect my opinion of the book or the content of my review.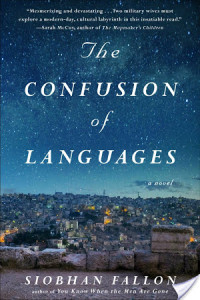 The Confusion of Languages by Siobhan Fallon
Published by Penguin on 2017
Genres: Contemporary Women, Family Life, Fiction, Literary
Pages: 336
Format: eARC
Source: the publisher (egalley)

Cassie Hugo has grown accustomed to living in Jordan. Her soldier husband has been stationed at the US embassy there for two years.  She's familiar with the rules and cultural customs that must be followed in order to survive.

Newly arrived Margaret Brickshaw, however, is the polar opposite. She's unable to assimilate into a country where women must keep their bodies covered and avoid direct/sole contact with individuals of the opposite sex.

It isn't until an accident sends Margaret to the local police station that Cassie realizes how bad things have gotten.  Cassie reluctantly agrees to watch Margaret's toddler; difficult in that she and her husband are struggling to have kids of their own.  As the hours pass there is no word from Margaret, Cassie begins to snoop through Margaret's apartment, hoping for answers.  The answers she finds are different than the ones she hoped for, and they all point to the likelihood that she had an active, though unwitting, role in Margaret's disappearance.
As a child, we moved around a lot.  It was challenging, being forced to pack up and make new friends every few years. That feeling pales in comparison to what military wives, especially those stationed oversees, endure.
Though I enjoyed Cassie's character, I grew easily frustrated with Margaret's.  It's almost as if she were intentionally going against everything she was told, not caring or realizing the danger.  That said, as more was revealed about her past, through Cassie's exploration of her apartment, I was able to come to terms with what she was enduring.  Not only was she facing the cultural shock of moving to a different country, she was early in a marriage in which they really didn't know one another.  She couldn't overcome the feeling of loss she felt when her husband left her on various tours and assignments.  What sounds like selfishness at first quickly transforms into true loneliness and feelings of abandonment.  Perhaps if she'd been further along in her marriage, more sure of herself as a wife and mother, then the challenge would not have been so insurmountable.  I can't help but imagine what it would have felt like to compare herself to Cassie, a military wife who seems so put together, so accustomed to the life.  I think her feelings of unworthiness perhaps created a barrier between herself and her only ally in this remote and different world.
The setting, too, inhibited Margaret from becoming the strong self-assured woman she wanted to be.  This stunted her ability to grow as a mother, a wife, a woman.
This novel is definitely a one-sitting read. I couldn't bear to tear myself away, for I became fully invested in these women's lives. I couldn't imagine the struggle and difficulties they must endure.  Fallon, a military wife herself, living in the Middle East, has the unique perspective that not many others have.  Understanding her own past allows readers to trust her perspective, knowing that it comes from real-life experience rather than book research.
This will undoubtedly top my favorite books of the year.  Highly, highly recommended.