I received this book for free from the publisher in exchange for an honest review. This does not affect my opinion of the book or the content of my review.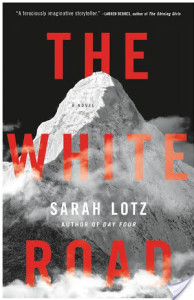 The White Road by Sarah Lotz
Also by this author: Day Four
Published by Little, Brown on May 30, 2017
Genres: Fiction, Horror, Suspense, Thrillers
Pages: 304
Format: Hardcover
Source: the publisher

Simon Newman is an adrenaline junkie. Desperate to get hits on his website, 'Journey to the Dark Side," he hires someone to take him down into the Cwm Pot caves, deemed off-limits for decades. The caves have a gruesome history of deaths, the caves so dangerous that the bodies could not be removed, the caves now serving as a tomb for those whose lives it claimed.  Unfortunately, the man he hired isn't reliable...or stable for that matter. Simon barely escapes with his life...and he has the film footage to prove it.

Still reeling from his new-found internet fame, Simon agrees to take part on another death-defying journey...this one to Mount Everest.  This trek, to an area known as the Death Zone, is quite possible the most dangerous thing he has ever done.  Deaths, too, have occurred on Everest.  The bodies remain where they fell; the ice creating a tomb preventing their removal. Not at all experienced in this type of ordeal, this may be the deadliest think he has ever done, though what started out as an attempt to gain exclusive footage turns in to so much more.  He uncovers a tragedy that has gone buried and unnoticed, captured in ice, for years.
Excusing all puns, this is quite the chilling read.  This book has a lot going for it.  Not one, but two, incredibly terrifying treks that numb the mind with terror.  It deals with two treks I'll never take: caving and mountain climbing.  Perhaps this aided in the terror I felt as I read.
Lotz outdoes herself with research in this novel, for it is full of expert and informed details and descriptions. The great detail she puts into describing the settings, too, make the reader feel they, themselves, are part of the scene.
The characters she's created, too, are wholly unique and dynamically built. All is not what it seems and this really does add to the chilling tone of this book.
If you are looking for a book to give you a good chill this summer, this is it! Highly recommended.